Microsoft is making some changes to the way that updates are delivered with the arrival of Windows 10 May 2019 Update. The corporation is taking a more cautious approach itself, and allowing end users to do the same, in most cases.
The Windows 10 May 2019 Update will start to roll out to most users in late May. However, next week it will roll out to the OS to its Insiders, extending the usual 'release preview' phase by several weeks. With the extra time that this software will be in testing circulation (its v1903 designation means it was finalised in March) it is hoped that any serious issues will be caught.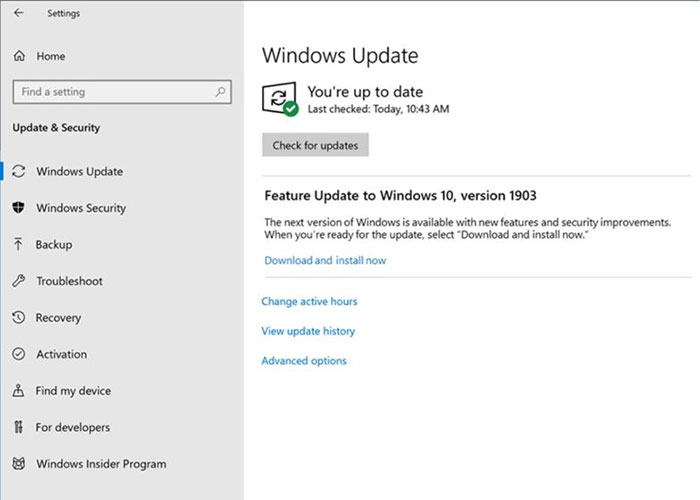 When the 'release preview' phase is over and Microsoft starts to roll out to ordinary Windows 10 users, it will be less pushy than usual. "Beginning with the Windows 10 May 2019 Update, users will be more in control of initiating the feature OS update," writes CVP of Windows, Mike Fortin on the Windows Blog. "We will provide notification that an update is available and recommended based on our data, but it will be largely up to the user to initiate when the update occurs."
As we have previously reported, Microsoft will continue to leverage machine learning and work closely with ecosystem partners to smooth the update process. The first to be notified of the Windows updates will be those for whom Windows data suggests there will be a highest likelihood of an issue-free update. Microsoft will also leverage 'intelligent active hours' to avoid disruptive restarts, and 'improved update orchestration'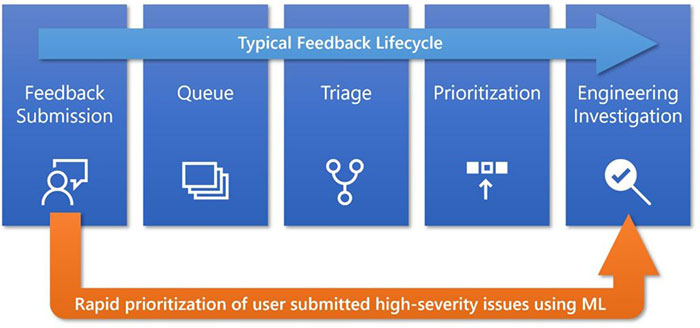 There are limits to the proposed flexibility though. The updates can be paused for up to 35 days by the user (seven days at a time, up to five times). However, if the Windows 10 device is at, or will soon reach, end of service, Windows Update will auto update to keep your machine supported and receiving the monthly updates and patches, for example.
If you value community feedback on OS updates, Microsoft thinks the new public dashboard will appeal. Following its principle of transparency it is publishing a new Windows release health dashboard later this month, "that will empower users with near real-time information on the current rollout status and known issues (open and resolved) across both feature and monthly updates". It builds upon the current Windows 10 Update History page hosted here. Such a tool could have pre-warned people who went on to suffer from data loss, following the Windows 10 October 2018 Update.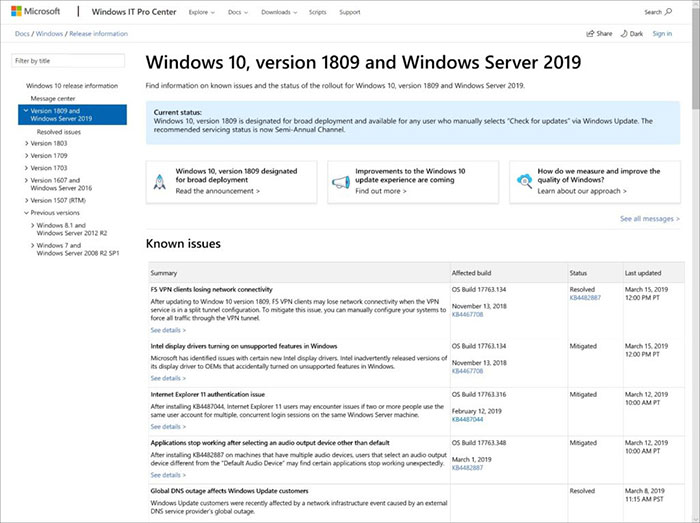 Windows 10 May 2019 Update doesn't appear to provide a lot of new features. Probably the biggest new feature will be the new Sandbox, but Microsoft is also introducing a new light theme, Kaomoji support, and will separate Cortana and Windows search.