Includes 2GB of storage and is completely free of charge
Adobe today launched the first public beta of its free web-based image management software; Photoshop Express.
The flash-based application is essentially a stripped down version of Adobe's hugely popular Photoshop software. Though useful features still remain, such as the ability to remove red-eye, converting to black and white, cropping, resizing and various image effects. More advanced users will immediately notice the lack of layers and other advanced editing tools associated with Photoshop.
Nonetheless, Photoshop Express is a swish piece of web software. It'll provide a very reasonable 2GBs of free online storage allowing users to store, edit and share images. Better still, it'll sync directly with services such as Picasa, MySpace and Facebook. Flickr users fear not, Flickr support is expected within a matter of weeks.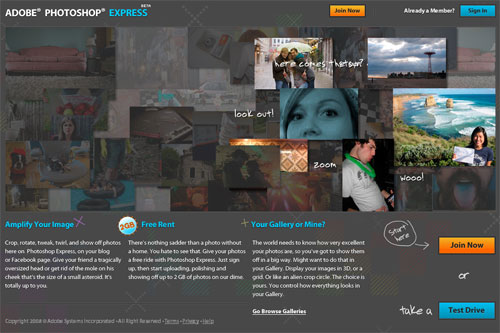 Doug Mack, vice president of Consumer and Hosted Solutions at Adobe said:
"Photoshop is trusted technology that has changed the visual landscape of our world. Now, Photoshop Express allows anyone who snaps a digital photo to easily achieve the high-impact results for which Adobe is known. Photoshop Express is a convenient, single destination where you can store, edit and share photos whether you're at home, school or on the road."
Rather than read Doug's praises however, why not put Photoshop Express through its paces and judge for yourself? Head over to Photoshop.com/Express and see what the service has to offer. Non-US residents be warned, the site does state the beta is avaliable to US users only. It will however let anybody sign up, so long as you put the US as your country.
Official website: Photoshop.com/express
Official press release: Adobe Launches Photoshop Express Public Beta