If you use Microsoft's Sticky Notes app in Windows 10 you may be happy to hear that multiple feature and usability updates are on the way to this very basic notes and reminders app. Currently in version 2-point-something, Reza Jooyandeh, the Engineering Manager for Microsoft Sticky Notes Windows, has been Tweeting about the impending release of Sticky Notes 3.0.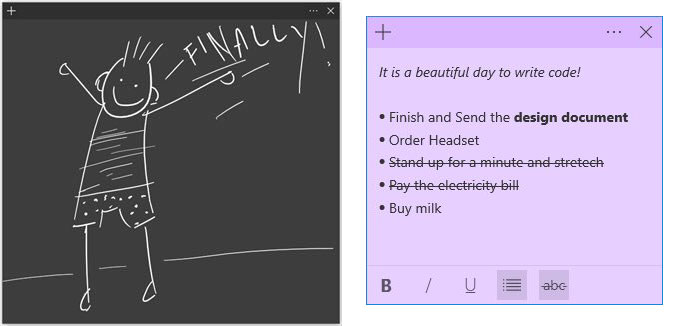 So far Jooyandeh has shared details of four improvements on the way, and you will be able to test out these new features "soon", in an upcoming Insider Preview skip-ahead version of Windows 10.
Dark mode: A dark themed notes setting will help prevent your retinas from burning as you work in your favoured dark home/office environment
Crossing out: This is a more natural way of working with lists of tasks, and so on. Once something has been done you can cross it out to mark its completion. If you are a very busy or forgetful person the crossing out can prevent you re-listing something you have already done but forgotten that you completed.
Optimisation: Sticky notes 3.0 is said to be "a lot faster" and has an improved look and animations which will be appreciated by those with an eye for detail.
Inclusive: Assistive tech and narrator work with Stick Notes 3.0. Furthermore you can use keyboard navigation in the app, mouse, touch and inking to make notes. Last but not least a high-contrast mode has been implemented.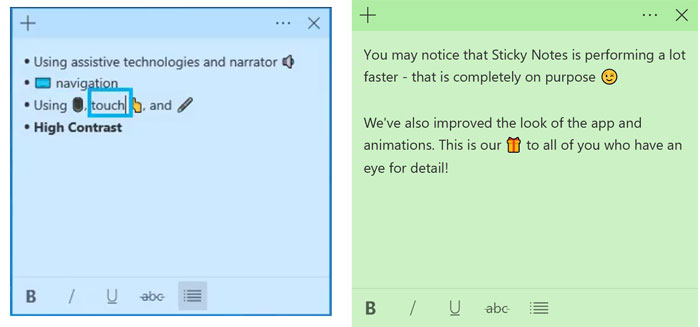 Microsoft Sticky Notes mobile sync

A report published by Thurrott.com says that Microsoft is preparing to roll out its Sticky Notes app to mobiles. The app is expected to launch sometime this year on Android and iOS. Importantly, it will allow Windows 10 Sticky Notes users to sync their notes across their PC(s) and mobile(s). The new app aligns with Microsoft's stated strategy of making Windows 10 work better and closer with smartphones.
On the topic of Windows / Phone integration, the latest Windows 10 Insider Preview Build 17741 blog highlights the Your Phone app, for quicker access to the contents of your smartphone in Windows.