Microsoft has penned a blog post on how it leveraged Artificial Intelligence (AI) to roll out the latest Windows feature update. It says this is the first time that it has leveraged AI at scale for this purpose, and it saw evidence that it has "greatly improved the quality and reliability of the Windows 10 April 2018 Update roll out". For example, with the latest update, there are higher satisfaction numbers, fewer known issues, and lower support call volumes compared to previous Windows 10 releases.
Explaining how the AI got on with its roll out task, Microsoft said that it "intelligently selects devices that our feedback data indicate would have a great update experience and offers the April 2018 Update to these devices first". Then, as the roll out progressed, data was continually added about the experience of outlying computer configurations, and based on that, roll out to similar PCs was accelerated or decelerated. Subsequently Microsoft engineers work to address the flagged compatibility and similar issues that the AI picks up. Microsoft says that the overall goal the AI was set was for a safe and reliable update.
Fastest Windows 10 Update ever
Overall it is claimed that the AI lets Microsoft rollout fast, and responsibly, with minimum issues, as wrinkles can quickly be spotted and then the AI adjusts the roll out strategy. "The April 2018 Update is officially the fastest version of Windows 10 to reach 250 million devices, achieving that mark in less than half the time it took the Fall Creators Update," boasts Microsoft.
Speed isn't everything, as Microsoft itself suggests, the company is also gratified by the smoother, 'higher quality' process for all concerned. Highlights of the Windows 10 April Update roll out include the following bullet points:
20 per cent reduction in system stability issues
20 per cent total reduction in operating system and driver stability issues, in collaboration with our hardware partners, on over 400k ecosystem drivers
Faster updates by reducing the amount of time your device is offline updating by up to 63 per cent (Fun Fact: telemetry shows a U.S.-based PC updated from the Fall Creators Update to the April 2018 update in just over three minutes!)
Edge launch times improved by up to 40-50 per cent (post-logon window)
There are now more Windows 10 devices than ever (nearly 700 million) but customer support contacts volumes are in a steady decline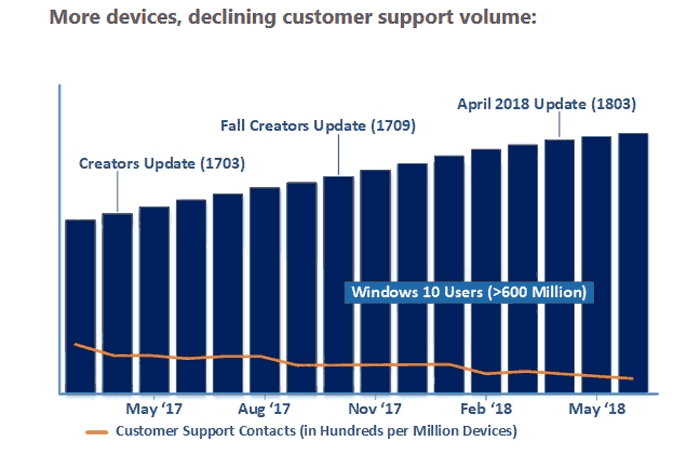 Microsoft undertook an AI pilot programme during the Windows 10 Fall Creators Update roll out and this limited trial gave the firm the confidence to develop and expand the AI powered rollout at the end of April 2018.
Looking back through HEXUS reports, the Windows 10 April Update did have some newsworthy issues. Most notable were the problems faced by PC owners packing Intel and Toshiba SSDs. Microsoft had addressed these problems by the last week of May.