Microsoft continues to puzzle with SP1 deployment
It has to be one of the strangest Service Pack releases you're ever likely to see. Microsoft's Windows Vista Service Pack 1 was released to manufacturing earlier this month and everyone then assumed the Service Pack would undergo an imminent roll-out. Not quite, citing third party driver conflicts, Microsoft offered up the following deployment schedule:
In mid-March, we will release Windows Vista SP1 to Windows Update (in English, French, Spanish, German and Japanese) and to the download centre on Microsoft.com.
In mid-April, we will begin delivering Windows Vista SP1 to Windows Vista customers who have chosen to have updates downloaded automatically.
As you'd expect, a few days later, SP1 landed in the hands of pirates. Trying to confuse us that little bit more, Microsoft's VP for Windows product management, Mike Nash, then announced the acceleration of Vista SP1's roll-out by making it available to volume licensing customers by the end of last week.
Today however, Windows Update tells me I have one important update to install on my 64bit Windows Vista Home Premium-based system - Windows Vista Service Pack 1 for x64 based Systems (KB936330).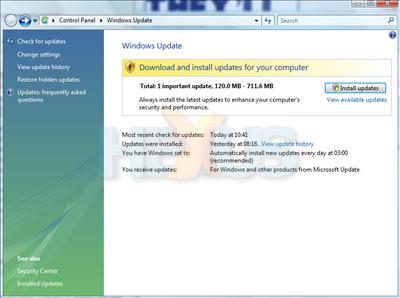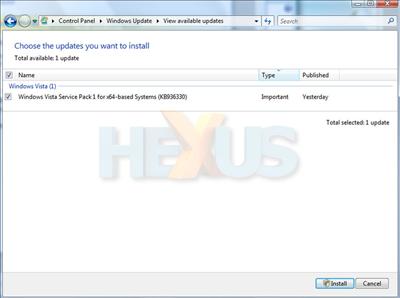 Other users don't yet seem to have been prompted for the install and even my own x86-based Vista laptop doesn't have the update available. Oh well, I think I'll give it an install and hope for the best.
*Live installation updates*
So, here I am, now on my laptop, watching Vista Service Pack 1 install on my desktop PC. I'm surprisingly nervous, considering that Service Pack 1 is supposed to be a good thing. Nonetheless, here's how I'm getting on:
11:19am - Installing Service Pack 1 update
11:28am - First reboot required. "Installing Service Pack: Stage 1 of 3 - 25% complete"
11:34am - Stage 2 of 3 - 0% complete
11:38am - Stage 2 complete, shutting down - what happened to stage 3?
11:39am - Ah, there it is, Stage 3 of 3 - 0% complete, must be getting close now
11:44am - Stage 3 complete, I'm now logging back into Windows
11:46am - I'm back in Windows, everything seems normal and there are no new updates available to install. 27 minutes later, I'm running Vista SP1. That's a pretty swift and painless install.