It was way back in July 2016 when Microsoft stopped offering free upgrades for Windows 7, 8 and 8.1 users to switch over to Windows 10. However, it was soon found that there was still a way to officially upgrade such a system. This remaining free method, considered a 'loophole' by some, is about to close.
As explained by this page in Microsoft's accessibility section: "If you use assistive technologies, you can upgrade to Windows 10 at no cost as Microsoft continues our efforts to improve the Windows 10 experience for people who use these technologies." Microsoft didn't restrict or enforce any particular parameters with regard to the assistive technologies upgrade offer.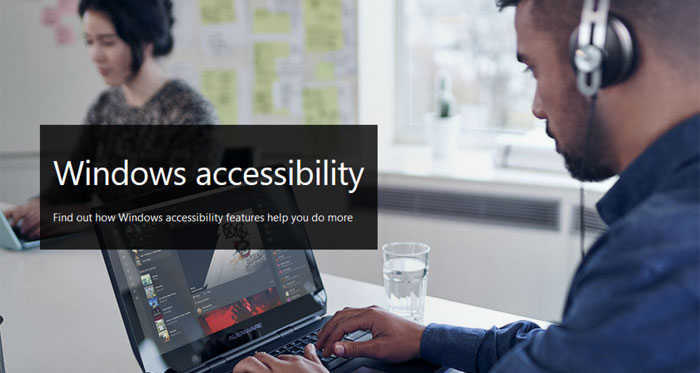 In a FAQ it says "We are not restricting the upgrade offer to specific assistive technologies. If you use assistive technology on Windows, you are eligible for the upgrade offer." Windows assistive technology is rather broad in scope, and includes the likes of Narrator, keyboard shortcuts, magnifier, speech recognition, display customisation and high contrast themes, Skype translator, on-screen-keyboard, live tiles, closed captioning, and even using Cortana.
Furthermore, Microsoft said that you don't have to use Microsoft assistive tech to qualify for the free upgrade. If you use a third party developed screen magnifier (perhaps something like the zoom tool in Photoshop?), for example, you were still eligible for the offer.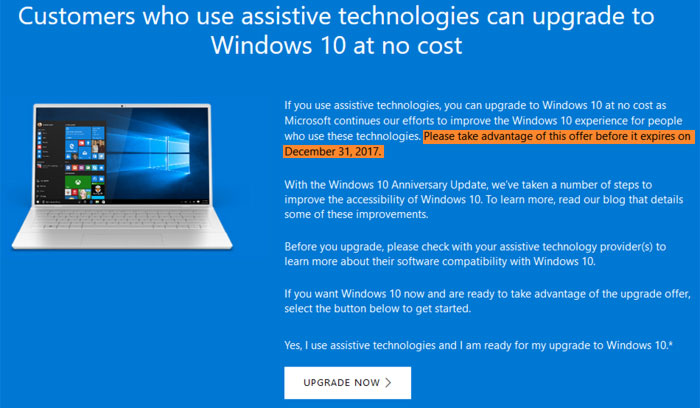 Recently the assistive technologies upgrade page has been updated with a deadline. "Please take advantage of this offer before it expires on December 31, 2017," ends the first paragraph on the page.
There may be one further way left to upgrade from Windows 7 or 8.1, or it too may close at the end of the year. Techspot recently noted that the assistive tech 'loophole' was still open (now we know it will close soon). It added that you could still upgrade to Windows 10 (in mid-August 2017) by downloading a copy via the Windows 10 media creation tool, then using an old Windows 7 or 8.1 key.