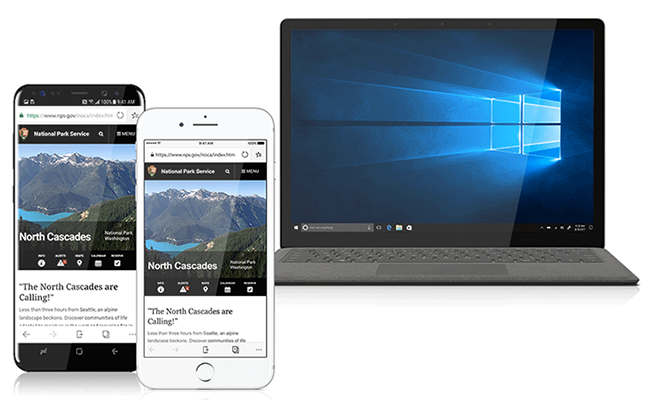 Microsoft has revealed that it will be bringing its Edge browser to both iOS and Android.
Announced by Joe Belfiore, Corporate VP for Windows and Devices at Microsoft, in a blog post, the new mobile-friendly versions of Edge are designed to help you synchronise your browser activity between your smartphone and PC.
'One of the most common requests we hear from people who use Microsoft Edge on Windows 10 PCs is "we want our browser experience to move to our phones". You spoke, we listened,' wrote Belfiore in the blog. 'Microsoft Edge for iOS and Android brings familiar features like your Favourites, Reading List, New Tab Page and Reading View across your PC and phone, so, no matter the device, your browsing goes with you. But what makes Microsoft Edge really stand out is the ability to continue on your PC, which enables you to immediately open the page you're looking at right on your PC—or save it to work on later.'
The launch is currently best described as limited, however. Edge for iOS is available today, but only as a preview via Apple TestFlight, while the Android version is simply said to be 'coming soon'. It's also currently in US-English only, but Microsoft says language support will expand as the preview continues.
Larger devices (iPads and Android tablets) are also not supported at launch. Finally, the Continue on PC function will only be enabled in the Windows 10 Fall Creators Update, so only those on Microsoft's Windows Insiders programme can take advantage for now. Regardless, if you're still interested in having a play, you can sign up to preview both version at this link.
In the same post, Microsoft also unveiled that its 'Arrow Launcher' project for Android is being updated and renamed to Microsoft Launcher.
'Today, we are also launching a preview release of our new Microsoft Launcher for Android. We think it's the most beautiful (based on Fluent design), customizable, powerful launcher available. With Microsoft Launcher, your recent photos, documents and more can all Continue on PC as well,' continued Belfiore. 'And – just like on Windows 10 – with Microsoft Launcher you can put icons of your favorite people right on the home screen so they're quickly and easily available.'