Just ahead of the weekend Microsoft Windows 10 Insider Preview Build 16237 for PC was released, to the Fast Ring, with an accompanying blog post by Dona Sarkar. It's interesting to see these releases, even if you don't participate in the Windows Insider program, as it provides insight into future mainstream Windows versions. With Build 16237 there's the usual set of bug fixes and refinements and the following highlights:
Windows Shell: no more logging out/in to fix blurry desktop apps
Notification and Action Centre improvements
An improved touch keyboard experience
Hyper-V improvements
And Task Manager GPU performance monitor improvements
Blurry desktop apps after screen resolution changes have been a high profile bugbear in Windows for quite some time. With the growth in popularity of convertibles and casting of screens there is a lot more 'docking, undocking, and remoting' going on, which often knocks Windows desktop app graphics out of kilter, resulting in a blurry appearance to the app.
Blurred desktop apps
Windows Preview Build 16237 has "changed the way that Windows provides DPI-related information to these applications such that each time one of these applications starts, they'll get updated data from Windows," explains the blog. So for blur affected apps you only have to restart the affected app to enjoy crisp graphics again. That's still not a perfect solution but a good step better than having to go through a log-out/log-in cycle when you change the connected/docked/remote display. Please note that the new build doesn't fix these problems on secondary displays when in 'extend mode'.
For user friendliness in an oft-used part of the Windows UI there have been a number of Notification and Action Centre improvements. A key change makes it easier than ever to take action on your notifications. Furthermore, Microsoft has made it clearer that dismissing a notification only pushes it to the action centre for later attention - it won't be deleted.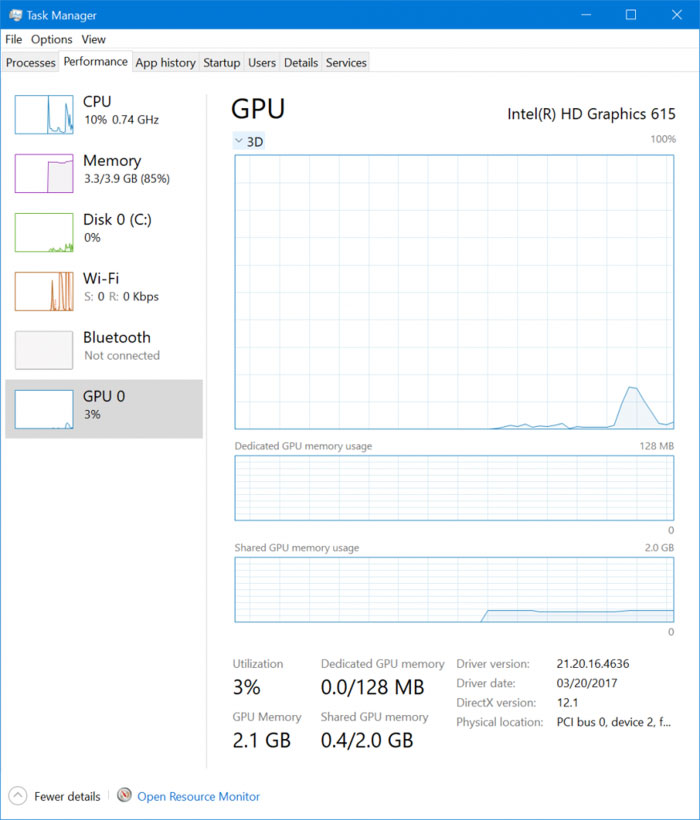 Task Manager GPU monitor refinement
Microsoft added its GPU(s) monitor to Task Manager in Win 10 Build 16226 and it has refined this feature in the new Build 16237. According to Microsoft the UI layout has been improved and more details are provided within the tab content. What you see above is a work-in-progress, further improvements are promised to the GPU monitor in future builds.
Head on over to the official Microsoft blog for further info on the features and bug fixes in this build.