Download the Windows 10 Creators Update now
As many will be aware, the Windows 10 Creators Update will start rolling out from 11th April onwards. If you are in no rush you could wait for your Windows 10 PC to auto-update. However, if you want to download installation media (for USB boot, DVD, or ISO file) you can actually grab the update now. Neowin reports that the availability of the (ver. 1703) update may depend upon your region. For me here in the UK it looks like it is indeed ready, but I will wait a few weeks before updating to avoid any 'digital indigestion'.
Privacy and Security
After many a Windows Experience blog post on features and tools coming to enable greater creativity in Windows 10 Creators Update, Microsoft has now shared some detailed info on the latest version of the Windows OS and your privacy. Terry Myerson writes that sharing this info is part of Microsoft's "commitment to transparency and your privacy".
In the Windows 10 Creators Update every privacy setting will include further description via a 'learn more' button to make your choices easy to understand. An updated privacy statement will come with the latest OS with key changes summarised in a Change History within the privacy statement.
Last but not least Microsoft will publish more information about the diagnostic data it collects. For example, it asserts that collected data at the 'basic' level is used only "to keep your Windows 10 device secure and up to date". Users have a choice between that 'basic' level and 'full' - there isn't a 'none' option.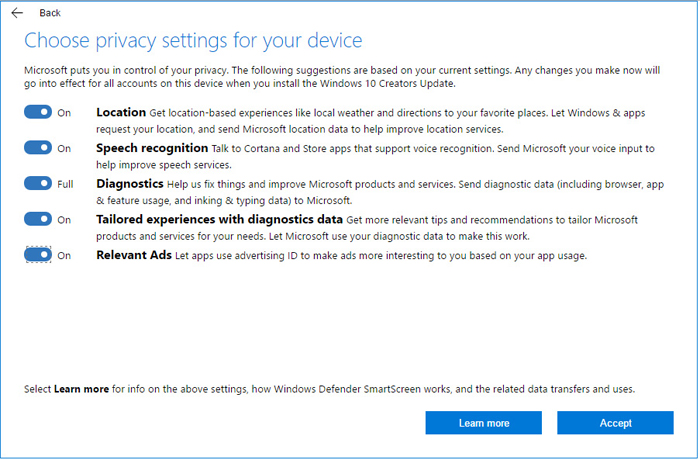 The new Windows 10 Creators Update privacy panels will use your current Windows 10 settings to base their new settings upon. You can see the settings and diagnostics basic/full toggle in the screenshot above. If you are installing the update from fresh the installer will present you with the screen below, from which to pick and choose privacy and security options. Below you can compare the info provided when the settings are all toggled on, and off.
One further privacy point of note is that Microsoft will be tweaking Windows 10 (and Azure, Dynamics 365, Enterprise Mobility + Security, Office 365, and SQL Server/Azure SQL Database) to comply with the European Union's General Data Protection Regulation. These new rules come into effect in May 2018 and aim to give EU residents more control over their personal data.