Last week we looked at reports concerning a new edition of Windows 10 being readied for cheap PCs. Microsoft Windows 10 Cloud would be a free OS to combat Google ChromeOS device propagation, according to rumours at the time. Now the evidence for such a version of Windows is piling up, and it is all but confirmed, as a build of the OS has leaked. Over the weekend there have been several reports about Windows 10 Cloud features (or lack of them), and we even have various users and media publishing hands-on videos.
As earlier reports suggested, only Windows UWP apps can be installed and run in Windows 10 Cloud. Furthermore, Project Centennial apps, which are Win32 desktop apps that have been converted to UWP, are said not to work. Looking through various reports and videos this (major) restriction seems to be the only one in the build which is otherwise very much like the current Windows 10 Insider build with a few of its own bugs thrown in.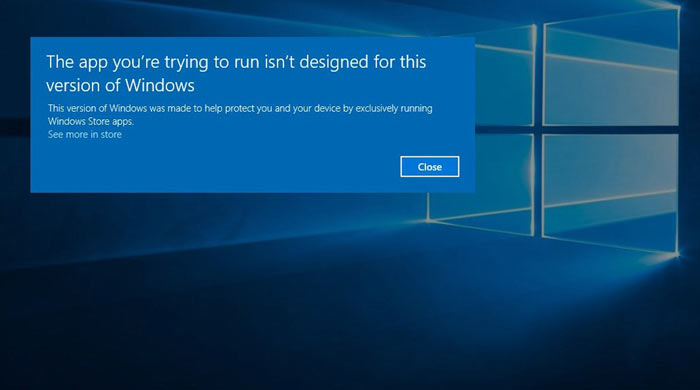 For a more detailed overview, Rich Woods from NeoWin published a hands-on video, poking about the new entry level OS from Microsoft and remarked upon its current lack of OneDrive integration (odd for a 'Cloud' OS). Woods was periodically alerted that "The app you are trying to run isn't designed for this version of Windows" - thought to be a bug in the build. However, this might too be the alert seen if a user tries to run a non-UWP app. Meanwhile Cortana works fine, Edge extensions work, the file explorer and settings controls all look quite complete.
Paid upgrades?
So what if you buy a cheap 2-in-1 or whatever, with Windows 10 Cloud installed, and later want to run some desktop apps that are important to you? MSPowerUser reckons you will be able to upgrade to a more complete version of Windows 10.
In the recently leaked build of Windows 10 Cloud there is a file called EditionMatrix.xml, the contents of which suggest you will at least be able to upgrade to Windows 10 Pro. There's no evidence of a Windows 10 Home upgrade as yet, but remember this is a leaked OS build. Hopefully Microsoft would provide in-between pricing for upgrades from Windows 10 Cloud to Home or Pro editions.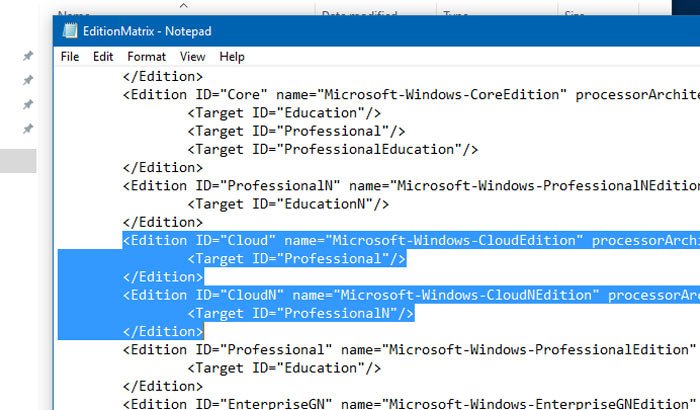 The Windows 10 Creators Update is due in April and this Cloud edition could well be released at the same time. Otherwise, Microsoft Build 2017 is scheduled for 10-12 May, and would provide another good platform for the 'Cloud' OS announcement.