Microsoft looks set to begin another assault upon ChromeOS with Windows 10 Cloud edition, according to some reports. ZDNet says that the new OS edition wouldn't offer any specialised cloud functionality; rather it will be a simplified version of Windows 10 limited to installing apps from the Windows Store (UWP apps). Windows 10 Cloud is likely to be provided to PC makers for free or at a low cost, just like the Windows 8.1 with Bing edition was.

Talk about Windows 10 Cloud began after references to it started to appear in Windows 10 Insider test builds. It was apparently spotted first by The Walking Cat, the source of the first news about Windows 10 Game Mode. If you look at the strings revealing the Windows products in the screen shot above, you will note that there are two Windows 10 Cloud editions, the one with the N suffix doesn't include Media Player, apparently.
Sources speaking to Mary J Foley at ZDNet say that we should expect the official debut of Windows 10 Cloud to be around April, when the Creators Update goes mainstream.
I'm sure a number of HEXUS readers will have a negative stance concerning Windows 10 Cloud, its UWP lockdown, and possible ties to Microsoft services like Bing. Even thought the Microsoft 'Cloud' OS looks set for pre-installs on the cheapest PCs, 2-in-1s, and so on.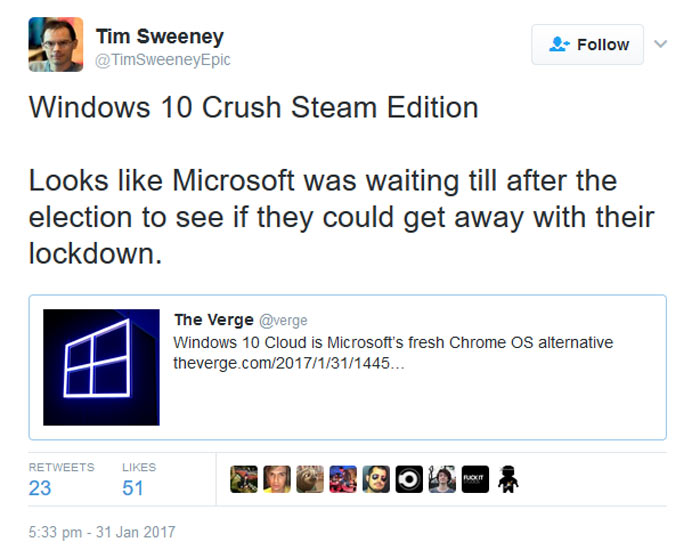 PC gaming industry figurehead Tim Sweeney of Epic Games fame has already reacted strongly concerning the news. Via his Twitter account Sweeney dubbed Windows 10 Cloud "Windows 10 Crush Steam Edition". Sweeney went on to explain his annoyance, "It's great for Microsoft to compete with ChromeOS, but NOT BY LOCKING OUT COMPETING WINDOWS SOFTWARE STORES," he Tweeted.