Just ahead of the weekend Mike Ybarra, Head of Platform Engineering for Xbox, published a blog post - the first to officially mention Windows 10 Game Mode. We first heard about Windows 10 Game Mode via inquisitive hackers sifting through Windows 10 insider update DLL files, just ahead of New Year.
Ybarra's post mentions several new features coming to Xbox One users and Windows 10 with the Creators Update. The engineering head says gaming updates in Microsoft's platforms will revolve around four key themes "Streaming, Performance, People, and Competition".

'Beam' is the streaming utility which will be built into Windows 10 and Xbox One. "Beam will connect to your Xbox Live account, making it easy to stream your favourite games to Beam and your Xbox Live community. No extra software is needed and viewers anywhere will be able to watch your streams and interact with your broadcast," explained Ybarra. To turn on this feature in Windows 10 you simply press Windows + G to activate the Game Bar, and click the broadcast button to start streaming.
Performance in games is said to be enhanced, specifically in Windows 10, via 'Game Mode'. Ybarra says that Windows Insiders will start to see the UI elements of Game Mode 'this week' with the featuring becoming fully operational 'shortly'. Unfortunately we are left with a teaser "This is a big update for Windows; we're looking forward to Insiders getting their hands on this new feature for further testing, and we'll have much more to share on what it is and how it works soon, so stayed tuned."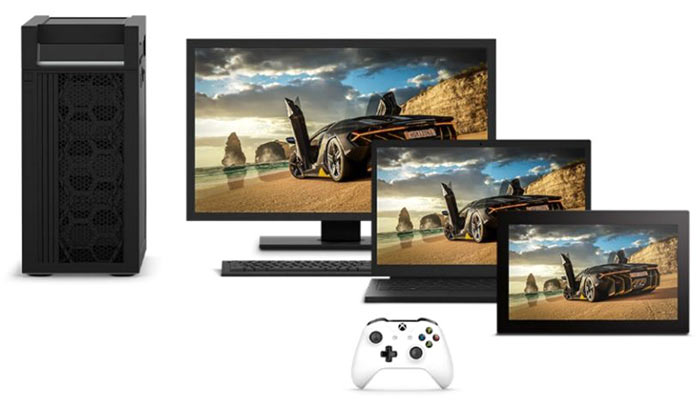 On the Xbox platform an increase in performance is to be delivered via better multitasking and a streamlined UI to help you get things done quicker.
Following on the four key themes mentioned above, Microsoft is adding improved connections between Xbox Live and other social networks, plus updates to the activity feed. For competitions - new tournaments are coming to Arena on Xbox Live and you will be able to create your own competitions in subsequent updates.