It looks like a 'Game Mode' is coming to Windows 10 in an update in the not-too-distant future. Evidence pointing to this dedicated Windows gaming mode comes from a Twitter user called Walking Cat, who has pawed over the 14997 build of Windows 10 on the prowl for interesting changes. The Walking Cat (AKA @h0x0d) discovered a new OS library file called 'gamemode.dll'.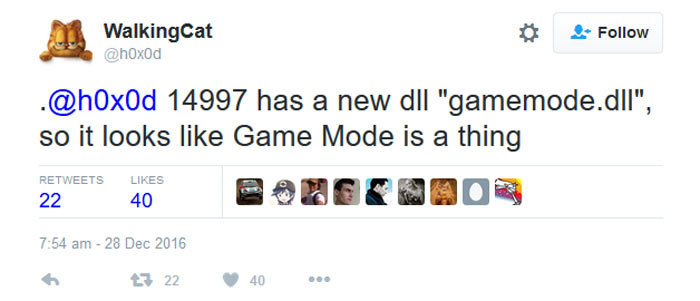 It's interesting to see what users like Walking Cat have uncovered so far in their poking and prodding of Windows 10 Insider Preview 14997. The latest iteration of the OS looks to be leaner than ever, taking up a significantly smaller portion of disk space, especially with compression on. Furthermore, there are various new apps and support for features such as spatial audio and more. Perhaps the most interesting new thing though, to those that like to use their PCs for gaming on the odd occasion, are the signs of a new 'Game Mode' on the way.
As highlighted by the Walking Cat Twitter post, Windows 10 14997 has a new DLL called 'gamemode.dll'. It is noted that such a feature was a popular request in the Microsoft Feedback Hub. So now it looks like Microsoft has been working in the background to implement it.
What the Windows 10 game mode will do is open to speculation. However, the story source reckons "Windows will adjust its resource allocation logic (for CPU/Gfx etc.) to prioritize the 'Game' when running in 'Game Mode'." Such a mode could help your PC cope better in games that are pushing its hardware resources to the limit. I would hope that the mode would be configurable via a control panel or similar.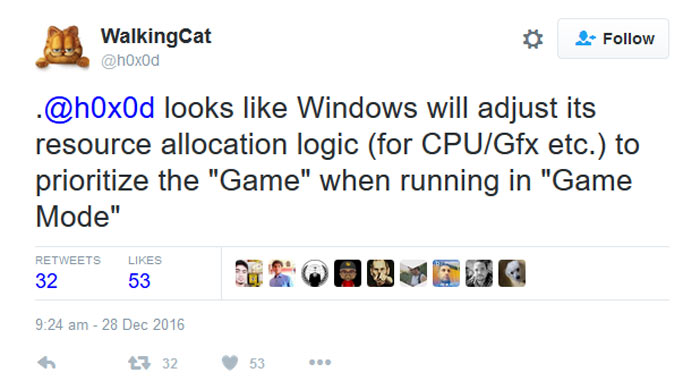 Microsoft hasn't come forward to confirm any upcoming 'game mode' but it could be another new feature that arrives with the major Windows 10 Creators Update scheduled for early 2017.