Microsoft first officially unveiled the Windows 10 Creators Update back in October. It trumpeted a new found focus on improving content creation workflows, with "3D for everyone", mixed reality (AR) experiences, improved 4K gaming, game broadcasting, and more. All built into Windows. At WinHEC last week we began to see some more aspects of the Creators Update. From the technical side of things, and certainly newsworthy, was news of full-fat Windows coming to Qualcomm Snapdragon powered 'cellular PCs'.
Another interesting nugget of news from WinHEC has only just been covered this week, and it involves 'Microsoft's Gaming Vision' - an area always important to HEXUS readers. As reported by Thurrott.com, Microsoft held a session (video link) called 'Graphics and Gaming Investments in Windows 10 Creators Update' to flesh out its vision.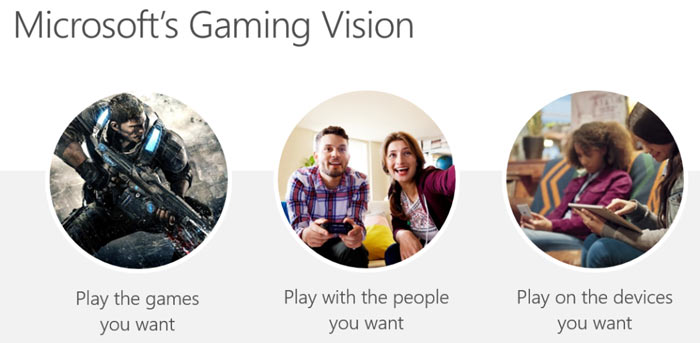 The introductory slide outlined Microsoft's goal that, as a gamer, a user will be able to; play the games you want, with the people you want, on the devices you want. It has already gone some way towards this goal with its Xbox Play Anywhere experience.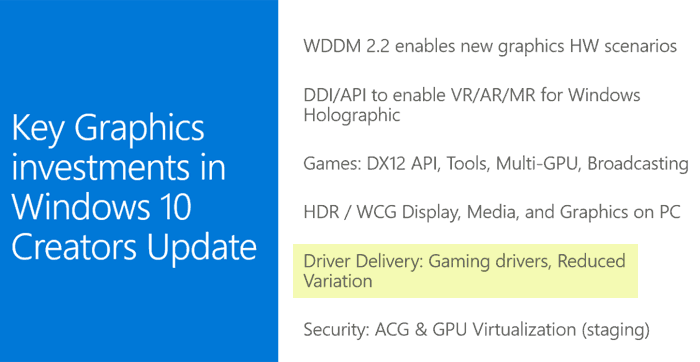 To provide the best possible gaming experience in Windows Microsoft has some further plans, as outlined above. You can see mentioned some features we have heard of before, like plans for game broadcasting being built into Xbox and Windows 10. However, among the new technologies Microsoft is touting, you can see something new: automated driver delivery for games from the Microsoft Store.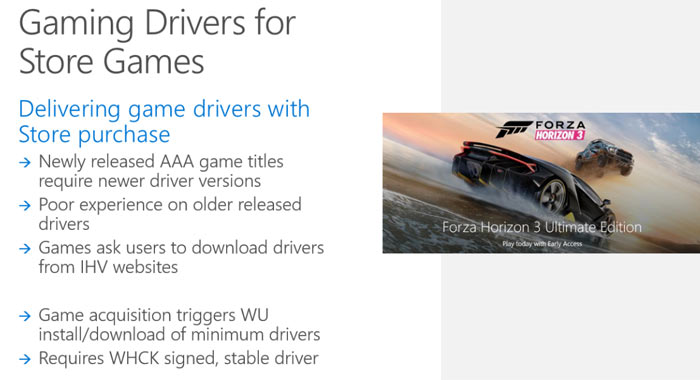 Thurrott.com foresees some gnashing of teeth occurring if Microsoft takes complete control of graphics driver updates, overwriting existing installations to suit new games as they are released, for example. It is hoped that Microsoft offers the automated driver delivery as an option, and one that is easily toggled on or off when the Windows 10 Creators Update arrives.