AMD is teasing a major update to its Radeon Software Crimson drivers. It was just over a year ago when AMD first announced then released its Crimson drivers, replacing the Catalyst Control Centre. The new edition this year will be called Radeon Software Crimson ReLive Edition.
The video above is not very informative. However, the title does mention that the first driver set released under this new moniker will be available from Thursday, 8th December, as does an official Tweet. For those with no patience to wait for tomorrow a set of slides, said to be from the presentation deck AMD will make available tomorrow, has already been spilled onto the net by WCCF Tech.
It seems like AMD will release Radeon Software Crimson ReLive Edition drivers for both consumer and pro product ranges tomorrow. Again the drivers are founded upon three principles, those of; performance, features, and stability. On that first point of performance, the new driver will deliver between 4 and 8 per cent better performance, using an AMD RX 480 in a quintet of popular games, than the driver released this June. See AMD's truncated bottom graph, below.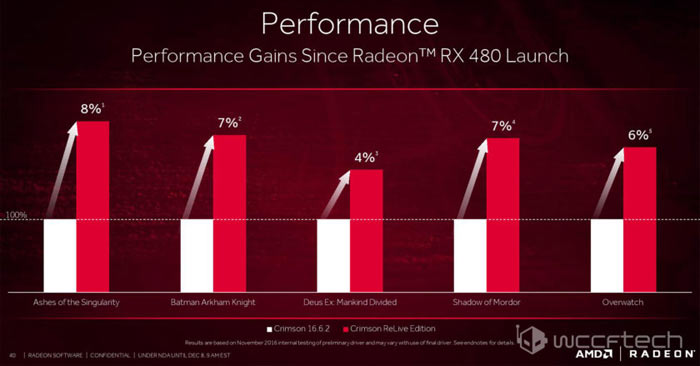 For feature improvements there are core benefits such as new VP9 decode acceleration, support for Dolby Vision and HDR 10, FreeSync support with up to 24 per cent lower click-to-response time, and support for the latest DisplayPort HBR3.
Then there is the Radeon Chill feature to help reduce power consumption and heat by not rendering unnecessary frames. A wide range of modern games can 'chill', with 18 supported titles initially, including Overwatch, Fallout 4, Deus Ex: Mankind Divided, The Witcher 3, and Rise of the Tomb Rider.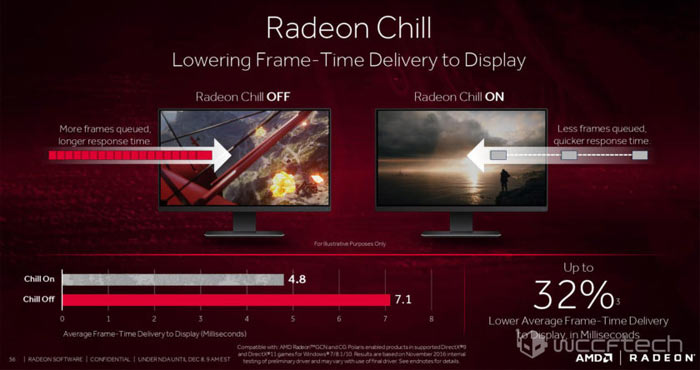 Radeon ReLive has integrated capture, stream and share functionality. This major feature offers an overlay/toolbar, instant replay, recording, streaming and screenshots. It supports major streaming platforms such as YouTube and Twitch.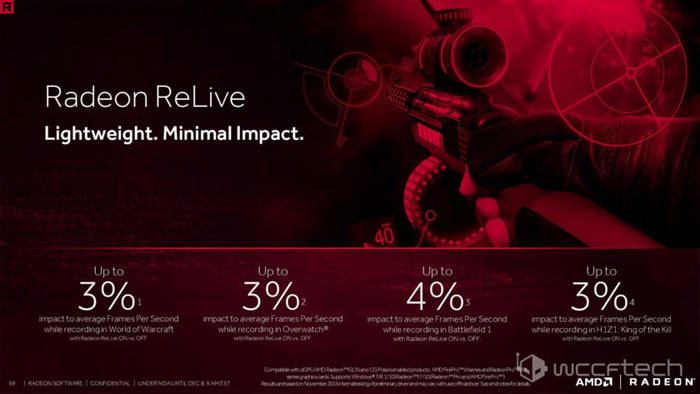 In another welcome change, AMD has extended WattMan support to more GCN products. Now you can use this power management software beyond the Polaris series, alongside products from the Radeon 200, Radeon 300, and Radeon Fury series.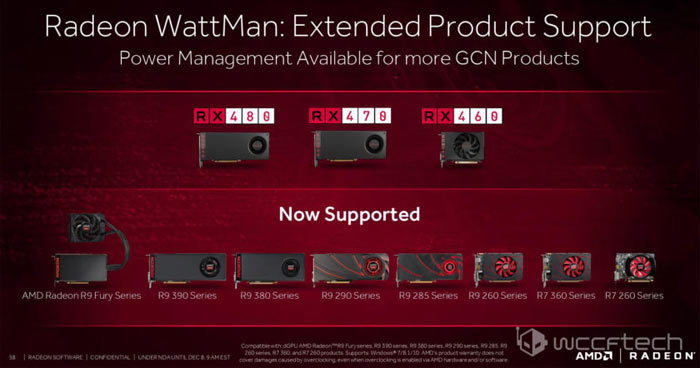 Last but not least the new pro version software will provide a significant year-on-year uplift in performance, according to the leaked slide below. The full official AMD release of press information, release notes, and both consumer and pro software is expected for 9am EST (2pm GMT) tomorrow.