Logitech has launched a new full sized keyboard with the ability to 'Easy-Switch' between your PC, tablet and smartphone. The Logitech K780 multi-device wireless keyboard can switch between three devices with the push of a button and is of course compatible across several platforms. Compatible platforms include; Windows 7 or newer, or MacOS X 10.8 or newer, Android 5+, iOS 5+, or ChromeOS. For further convenience, the design features a trough beyond the F-Key row where you can stand most tablet and smartphone designs – you can even fit a tablet and a smartphone side by side, depending upon their size.
In the video above you can see a user 'seamlessly switching' from a PC, to smartphone, to tablet. These are set up on the K780's 'Easy-Switch' keys as device, 1, 2 and 3 respectively. As required the user presses the corresponding key (which double up with a modifier as F1-F3) to input text on a device. Each key has an LED insert so you can quickly see the input focus of the keyboard. Other useful keys that you might need as you switch between devices include; Home, Search, Back, App-Switch and Contextual Menu.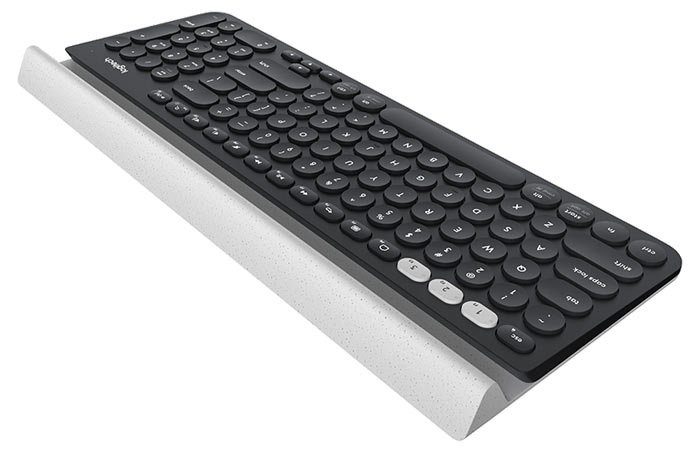 Logitech's K780 keyboard includes a number pad and cursor keys in a slightly condensed size compared to a traditional full-sized keyboard. It uses the Logitech PerfectStroke key system for comfortable typing but the rake isn't adjustable. The range of the keyboard is 10m/30ft range and 128-bit AES encryption secures the communication between keyboard and connected device. Logitech has equipped the K780 to connect via its USB receiver or Bluetooth.
The K780 promises long battery life of approx 2 years from the pair of pre-installed AAA batteries. To save energy the keyboard auto-sleeps but there is an on/off switch and battery status light for you to check.
Looking at the Logitech K780's physical properties, the keyboard measures 158mm x 380mm x 8mm at front, and 22mm at back. Its smart device stand can accommodate most smartphones and tablets up to 11.3mm thick in portrait or landscape. If you are an iPad Pro 12.9-inch user it must be landscape orientated. The K780 weighs 875g.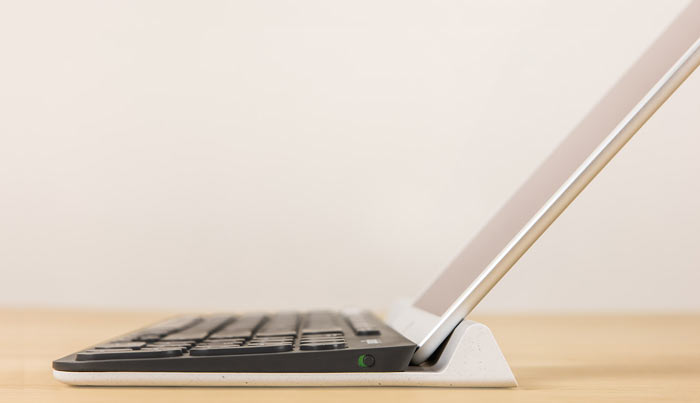 Logitech is selling the K780 multi-device wireless keyboard for £74.99 in the UK, including free shipping. Buyers get a 2-year warranty.