Peripherals maker Logitech has launched a couple of new mice which minimise the audible clicks that result you press the mouse buttons. The Logitech M330 Silent Plus and M220 Silent wireless mice are the manufacturer's first targeted at the quieter-is-better crowd. Cutting down on the clicking noise doesn't impact the precision or durability of these mice in any way, promises Logitech. These quiet mice have received the Quiet Mark seal of approval from the Noise Abatement Society.

If you can't think of any reasons why a quiet mouse would be preferable, Anatoliy Polyanker, global portfolio and brand director at Logitech explains "We live in a social world, whether you work in a shared space or at home, but sometimes silence really is golden". Polyanker divulged that Logitech engineers have been studying the precise sources of noise coming from a mouse in action and "created ways to reduce the decibel level without sacrificing quality".
The result is that these new 'Silent' mice offer an up to 90 per cent reduction in click noise (compared to the Logitech M170). However, the traditional click feel remains the same so you can be positive you have actuated a button.
Both the M330 Silent Plus and the M220 Silent mice are wireless with a range of approx 10 metres (33ft). They come with a plug and play 2.4GHz nano-receiver and are compatible with Windows, Mac, Chrome OS or Linux computers. Buying the 'Plus' model doesn't bring you any more buttons, they both have a dual button with clickable scroll wheel configuration, plus a 1000 dpi sensor. The only advantages to the M330 Plus seems to be a longer battery life (24 months rather than 18 months), and the sculpted shape with rubberised contours (right handed design) is slightly larger and weightier (91g rather than 75g).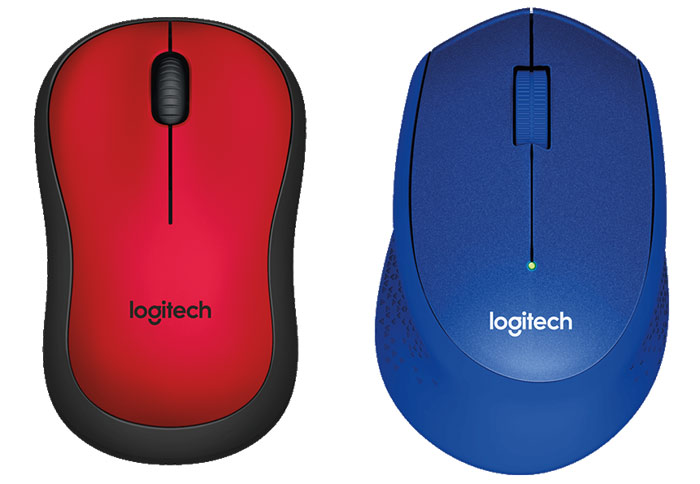 Logitech's M330 Silent Plus and M220 Silent wireless mice will become available later this month direct from Logitech and from other retailers with an MSRP of $29.99 (£29.99) and $24.99 (£19.99) respectively. They are now available for pre-order in black, blue or red colours.