Unlike its tech rivals such as Zotac, Aorus, HP, and MSI - Asus has yet to launch or even tease a VR backpack, a product which appeared to become a trend at Computex this year. So I was excited to see a new product, the ROG Ranger Backpack, appear in the Asus YouTube channel a few hours back. Alas, this Ranger is only designed for transporting your PC gaming kit (VR Ready or not) from A to B, without any VR fun involved.
The ROG Ranger is simply a backpack designed to help you cart around your precious PC gaming gear. It is made from water-resistant 1260D Gucci polyester and you can see a 'shield' on the back which is a polyurethane panel, added for "tough protection". Though the pack as it is is probably OK in a short rain shower, if it's raining properly you will want to deploy the built-in rain over with fetching ROG logo. When done that rain cover just folds up and tucks back in under a zipper at the base of the pack.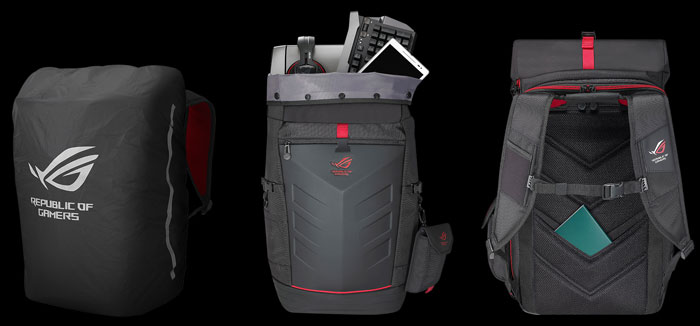 Users can fit quite a lot of gear in the ROG Ranger. As you can see in the video a table full of PC gaming was easily taken care of. The video example showed a full-size gaming keyboard, 17-inch laptop, mouse, headset, phone, and more packed neatly into the backpack. The Asus ROG blog even managed to fit in two 17-inch laptops with room to spare.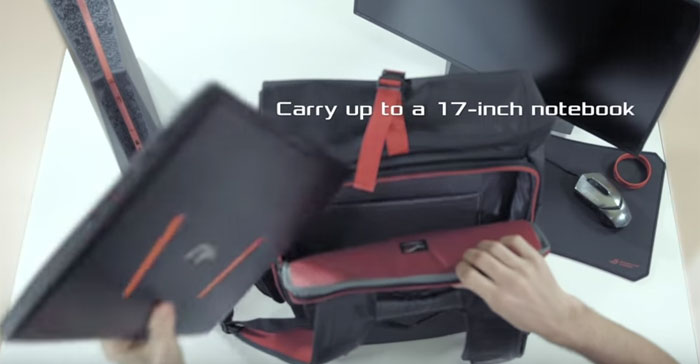 With your bag full of this pricy kit you might be a little assured with the integrated security lock on the main compartment. There are lots of other compartments, a detachable accessories panel, and pockets in the bag to help you be organised and protect your equipment from scratching each other. Last but not least the bag's foldable closure system means it isn't huge when lightly packed/empty.