Razer Core
Razer has named the price and indicated the availability date for its interesting, AMD-backed, Razer Core external graphics enclosure. The "world's first plug and play Thunderbolt 3 external graphics enclosure" will be priced at $499 and be made available in April. At the time of writing there are only two laptops known to be compatible with the Razer Core, the Razer Blade Stealth Ultrabook and the 2016 Razer Blade, announced yesterday.
Razer's Min-Liang Tan took the opportunity to remind us of the Razer Core's significance, "in collaboration with industry leaders, we've created the world's first external graphics card solution of its kind, bringing the GPU power of a desktop PC to the latest Razer laptops, such as the Razer Blade Stealth Ultrabook, through a single Thunderbolt 3 connection with plug-and-play convenience".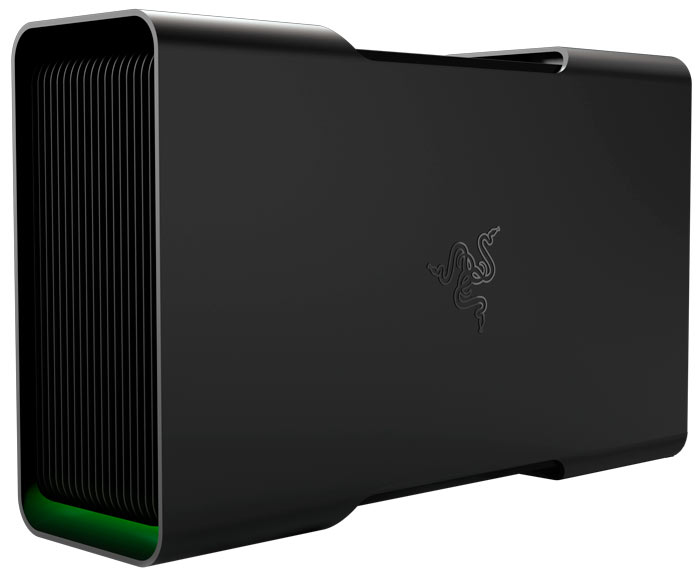 The Razer Core supports a wide range of up to double-wide, full-length, PCI-Express x16 graphics cards. The currently supported list is as follows:
AMD cards supported

Nvidia cards supported

- AMD Radeon™ R9 Fury

- AMD Radeon™ R9 Nano

- AMD Radeon™ R9 300 Series

- AMD Radeon™ R9 290X

- AMD Radeon™ R9 290

- AMD Radeon™ R9 280

- NVIDIA® GeForce® GTX Titan X

- NVIDIA® GeForce® GTX 980 Ti

- NVIDIA® GeForce® GTX 980

- NVIDIA® GeForce® GTX 970

- NVIDIA® GeForce® GTX 960

- NVIDIA® GeForce® GTX 950

- NVIDIA® GeForce® GTX 750 Ti

- NVIDIA® GeForce® GTX 750
It's good to see that AMD XConnect Technology, which facilitates the "seamless switching between discrete and integrated Intel HD graphics for a true plug-and-play user experience," plays nicely with users who choose to install Nvidia GeForce graphics cards in the Razer Core.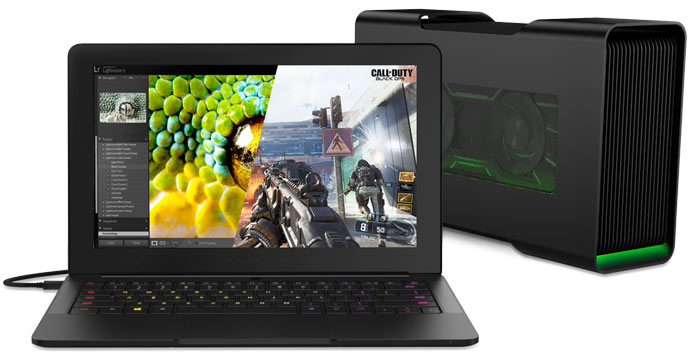 Razer Core specs:
Connection to PC: Thunderbolt 3 using included 40Gbps cable
GPU Support: graphics card sold separately
- GPU Type: (1) double-wide, full-length PCI-Express x16 graphics card
- GPU Max Dimensions: 12.20" x 5.98" x 1.73" (310 x 152 x 44 mm)
- GPU Max Power Support: 375 W
- Graphics Output: Based on capabilities of installed graphics card
- USB 3.0 x 4
- Gigabit Ethernet 10/100/1000
- Thunderbolt 3 (for connection to PC)
Lighting: Powered by Razer Chroma – 2 zones
Power Supply: 500 W
Approx. Dimensions: 4.13" (104.9 mm) wide x 13.38" (339.9 mm) deep x 8.6" (218.4 mm) high
Approx. Weight: 10.89 lbs. (4.94 kg)
Please note that registered owners / buyers of compatible Razer laptops will get the Razer Core for $100 less (i.e. $399).
Sony PlayStation VR
Sony has announced pricing and availability for its highly anticipated 'mass market' PlayStation VR headset. The device is priced at US$399 / CAD$549 / GBP£349 and will become available in October. Sony apologised for the availability date being a bit later than expected.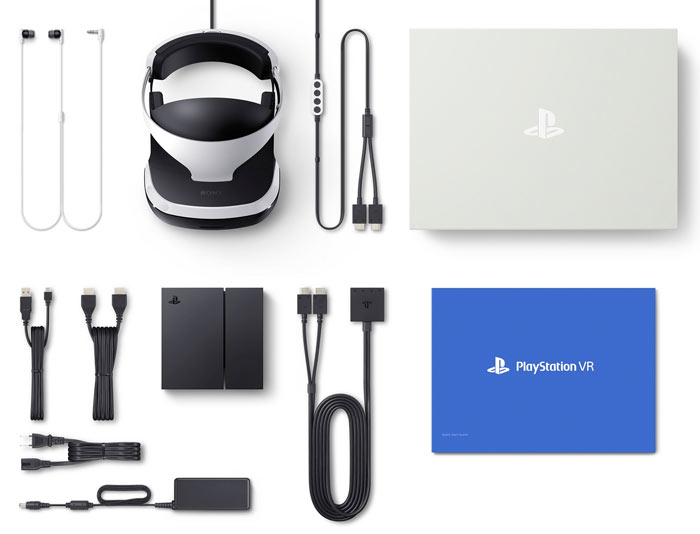 The contents of the PS VR consumer edition pack are shown above.
Over 230 developers are building content for the PS VR, Sony informed us, with 50 top titles expected to be available for launch in October. To get you started Sony includes 'The Playroom VR' with every headset, a Japan Studio production which includes six games that can be enjoyed with friends and family.
The PlayStation VR is pre-orderable now. Its pricing significantly undercuts rival HMD VR systems being marketed for PC users.