Intel unveiled its Thunderbolt 3 technology with USB-C at Computex this summer. It described the advanced interface as "one compact port that does it all". At Computex an Intel exec gushed "Thunderbolt 3 is computer port nirvana – delivering two 4K displays, fast data, and quick notebook charging… and so much more." Now, at IDF 2015 we are seeing devices that can provide a lot of useful features thanks to Thunderbolt 3 and USB-C.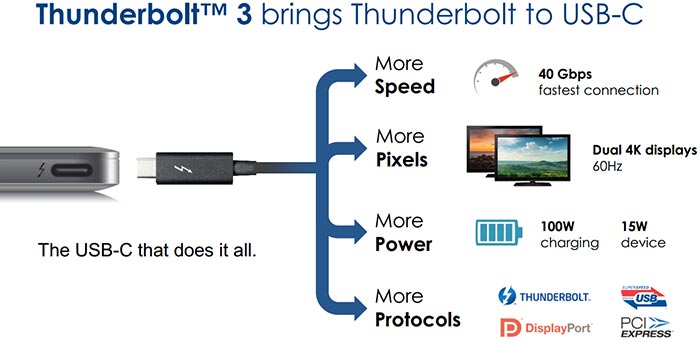 In a blog post coinciding with the IDF Intel sums up the capabilities of Thunderbolt 3 as follows: "A Thunderbolt 3 cable provides four times the data transfer per second and twice the video bandwidth of any other cable, while also supplying power. It's unrivalled for new uses, such as 4K video, single-cable docks with charging, external graphics, and built-in 10 GbE networking". Intel has, just days ago, gained USB 3.1 certification for the Intel Thunderbolt 3 controller from the USB-IF.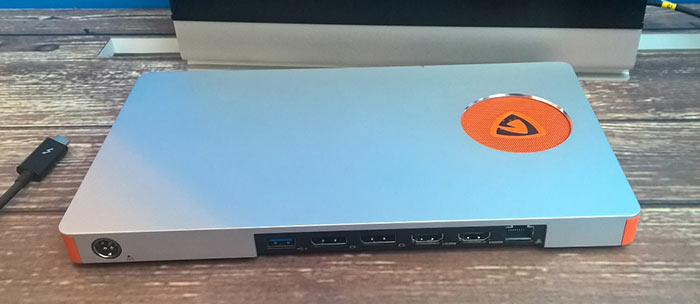 There are a number of Thunderbolt demos going on at various IDF booths right now. Of particular interest is the Thunderbolt 3 external graphics demo in the Computing Innovation Zone. HEXUS has taken some photos of a couple of new devices which provide external graphics and one of them also incorporates a number of extra ports including USB 3, HDMI ports, DisplayPorts, and Ethernet.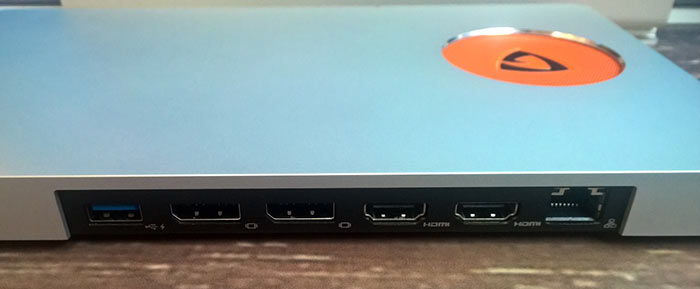 In the pictures above you can see a sleek Thunderbolt 3 docking device. It has all the ports mentioned above plus, round the front, it offers external audio, another USB 3 port and a USB-C port. The box can drive two 4K monitors, and was shown doing that at the demo. The model shown above includes an AMD Radeon R9 M385 GPU.
If you were excited to hear about this external graphics capability but the above example let you down a bit – don't worry – Intel was also demoing a much meatier GPU connected via Thunderbolt 3. In the picture below you can see a box, with the cover off on the left of the photo, that contains a regular ASUS made desktop AMD Radeon R9 200 series graphics card. This card was up and running, looping the Unigine Heaven benchmark on an attached 1440p desktop monitor.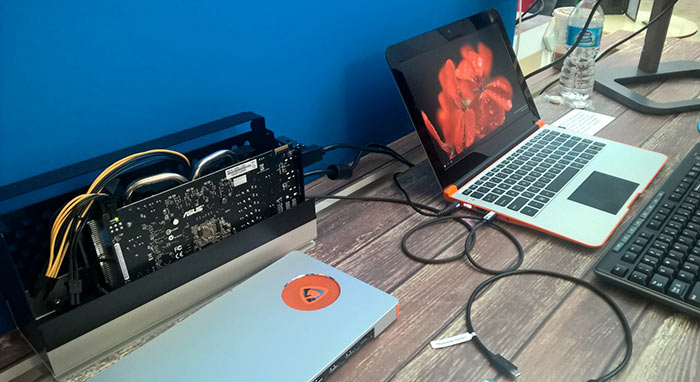 Such external graphics cards could be very appealing to those who like to buy laptops for the ultimate in portability, yet would like to have the option to game on it when they get back to 'base'. I think I would prefer a thin and light Thunderbolt 3 laptop with a powerful external GPU option to the rather heavy switchable graphics laptop I own now. Thunderbolt 3 could mean an end to proprietary locked-in 'graphics amplifiers' like those designed by Alienware.