PC keyboard specialist Cherry has launched a new kind of mechanical keyswitch. The Cherry MX Silent switches are claimed to be the quietest mechanical keyswitches due to the use of a patented noise reduction system.

Construction of an MX Silent keyswitch
Cherry MX Silent switches are "significantly quieter" than other Cherry mechanical switches yet still use the proven and precise MX technology that users love. The explanation of how the noise reduction technology is implemented is rather vague in the press materials sent to HEXUS. On the subject of how the new keyswitches are made to be 'silent' Cherry says that "integrated 2-component tappets," reduce audible clicks "to the acoustic minimum at the top and bottom ends". It says that users won't have to resort to third party products (such as rubber/silicone O-rings perhaps) but can instead benefit from an integrated, proprietary and innovative solution "through which every single switch retains its special characteristics".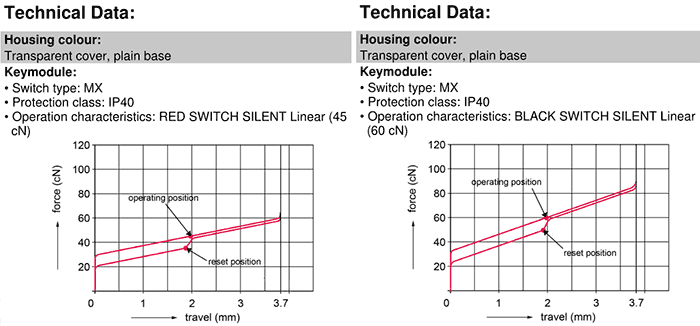 To begin the rollout of the new silent keyswitches Cherry will be producing both regular and RGB switches in MX Red and MX Black variants. Both these MX switches use a linear actuator and are said to the most popular in Cherry's mechanical portfolio. MX Red switches require 45g of actuation force while the MX Black variety require 60g, as shown in the diagrams above.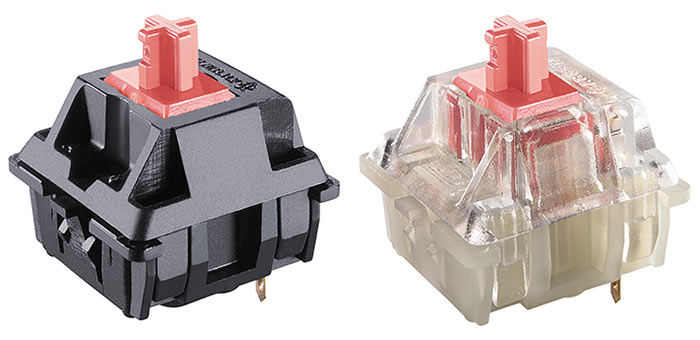 MX Red Silent and MX Red Silent RGB switches
To launch the new silent keyswitches Cheery has decided upon a timed exclusivity deal with Corsair. For the first six months you will only be able to find Cherry MX Silent mechanical keyswitches on Corsair keyboards. I've just received some Gamescom press materials from Corsair, and will tell you about those keyboards, and other new Corsair gaming peripherals later.