Philips has launched a new product to help you create a convenient, ergonomic and clutter free workplace. The Philips SB4B1928UB Monitor Stand and Universal Dock is said to mix a stylish, ergonomic monitor stand with an I/O hub that connects to your PC via a single USB 3.0 cable. Mobile business professionals who work at multiple locations, toting the latest ultra-thin notebooks, are expected to be particularly attracted by the features of the Philips SB4B1928UB.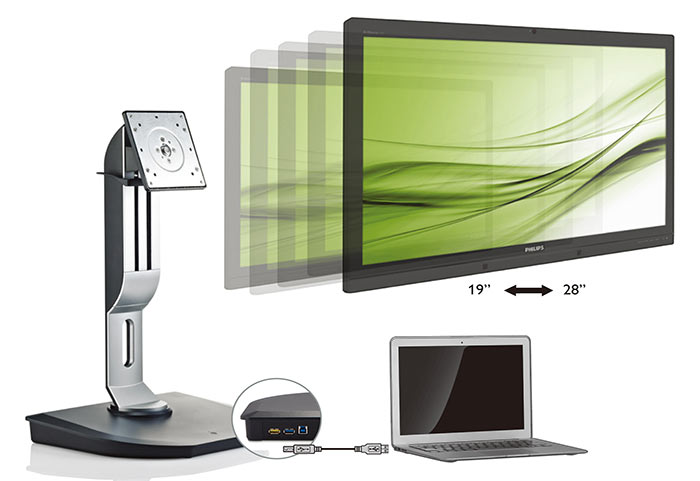 Dock functionality
As mentioned above, the stand connects via a single USB 3.0 cable connection for speed and simplicity. The dock provides a large number of common office connectivity options to the connected user. Spread across the right hand side and back of the monitor pedestal, users will have access to the following ports:
Signal Input: USB 3.0 x 1 (upstream)
Signal Output: DP x 1, HDMI x 1
USB: USB 3.0 x 4 with B.C.1.2
Earphone jack
RJ45 Ethernet: Yes (through USB)
Microphone in: Yes (through USB)
SD MMC card slot: SD card
There's also a Kensington lock, power switch and power cable socket

Philips points out that this dock will work with any computer with a USB 3.0 connector so won't need replacing if you upgrade/change laptop brand, for instance. The dock supports multiple monitors and can display up to UHD (3840 x 2160) resolutions.
SmartErgoBase stand
Philips' SB4B1928UB can support monitors measuring between 19- to 28-inches in diagonal. The attached screen simply needs to be VESA-compliant (100 x 100 mm hole pattern). As a stand, the SmartErgoBase is pretty feature-filled and provides user-friendly height, swivel, tilt and rotation angle adjustments plus cable management. It can be adjusted for low bezel-to-table height for bifocals, trifocals or progressive lens glasses wearers. Its full ergonomic specs are as follows:
Height adjustment: 120 mm
Pivot: 90 degree
Swivel: -65/65
Tilt: -5/20 degree

The SB4B1928UB weighs 3.4Kg and measures 310 x 463 x 261mm. It uses between a typical 3.8W and a maximum of 121W when powered up and has a built-in 100-240V, 50-60 Hz PSU. Philips tells us that the SB4B1928UB is available immediately and has an RRP of £128.