In what is described as "the biggest advancement since its inception," Intel's Thunderbolt 3 will bring 40Gbps transfers to the USB-C port to create "one compact port that does it all". For the first time one port will be able to connect to Thunderbolt devices, every display, and billions of USB devices at up to full USB 3.1 gen2 speed. Intel's Thunderbolt 3 provides four times the data and twice the video bandwidth of any other cable. It also can be used to supply power. Thus the small, reversible USB Type-C ports could, in the future, be the only kinds of connectors your computer requires.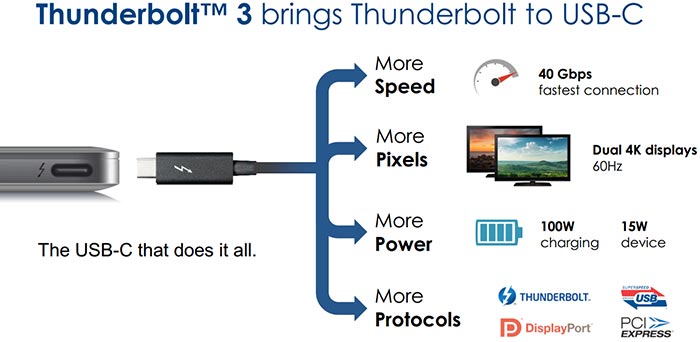 "Thunderbolt 3 is computer port nirvana – delivering two 4K displays, fast data, and quick notebook charging", said Navin Shenoy, vice president in Client Computing Group and general manager of Mobility Client Platforms at Intel Corporation. "It fulfills the promise of USB-C for single-cable docking and so much more. OEMs and device developers are going to love it," he enthused.
Regular HEXUS readers will remember that VESA announced it would bring DisplayPort to the USB Type-C connector last year. Intel says that its Thunderbolt 3 standard supports DisplayPort 1.2 and DVI, HDMI, and VGA displays via adapters. Even more impressively, with Thunderbolt 3 users will be able to drive two 60Hz 4K displays simultaneously. It seems like a canny move for Intel to move away from the proprietary Thunderbolt port designs.
Looking at data transfer duties, in Thunderbolt mode, a single cable now provides four times the data and twice the video bandwidth of any other cable, while supplying power. That means you will be able to a "transfer 4K movie in less than 30 seconds," for example.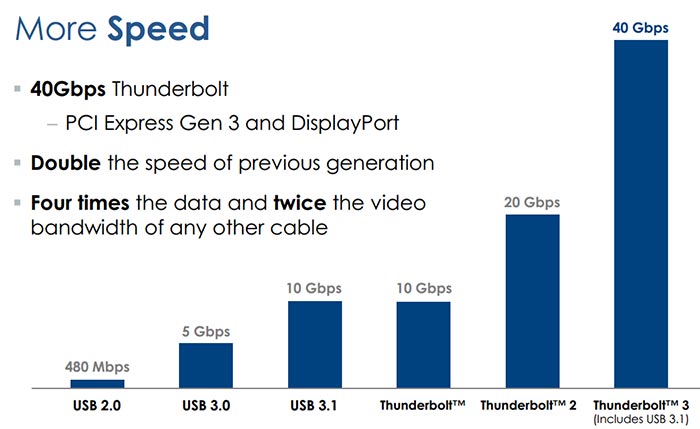 Intel says that it expects the new cable/connector to be unrivalled in applications such as 4K video, single-cable docks with charging, built-in 10GbE networking and external graphics. However, if your external graphics cards require anything near 100W or more, you should probably add a dedicated power supply. I've reproduced the Thunderbolt 3 technology spec list below for your convenience.
Thunderbolt, USB, DisplayPort, and power on USB-C
USB-C connector and cables (small, reversible)
40Gbps Thunderbolt 3 – double the speed of Thunderbolt 2
Bi-directional, dual-protocol (PCI Express and DisplayPort)
4 lanes of PCI Express Gen 3
8 lanes of DisplayPort 1.2 (HBR2 and MST) that supports two 4K displays (4096 x 2160 30bpp @ 60 Hz)
USB 3.1 (10Gbps) – compatible with existing USB devices and cables
DisplayPort 1.2 – compatible with existing DisplayPort displays, devices, and cables
Connect DVI, HDMI, and VGA displays via adapters
Power (based on USB power delivery)
Up to 100W system charging and 15W to bus-powered devices
Thunderbolt Networking
10Gb Ethernet connection between computers
Daisy chaining (up to six devices)
Lowest latency for PCI Express audio recording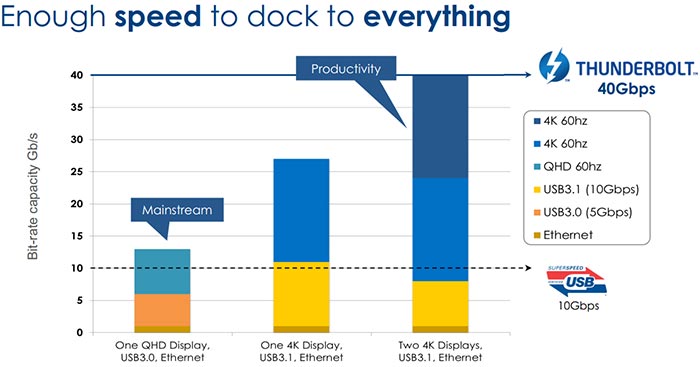 The first Thunderbolt 3 products are expected to ship before year end. A Thunderbolt 3 USB Type-C connector will be distinguishable by its small thunderbolt logo symbol.