A slide which is purportedly part of an internal Intel presentation deck has been unearthed by Chinese VR Zone. Revealed is information highlighting the advances that the next generation Thunderbolt controller (code named Alpine Ridge) will bring to high speed computer interfaces.
Highlights of the Thunderbolt 3 connector include the doubling of bandwidth over its predecessor. While Thunderbolt 2 can provide up to 20Gbps of bandwidth Intel says that new interface can reach 40Gbps (just over 5GB per second). Compare that to the current pinnacle of USB 3.1 tech which can achieve only 10Gbps.
The new data and video interface is also going to be able to provide charging functionality up to 100W. Current versions of the Thunderbolt interface connector measure 7.4mm wide and 4.5mm thick. This connector is set to get thinner by 50 per cent, offering a Z-height of approximately 3mm. Intel says there will be adaptors available for backwards compatibility.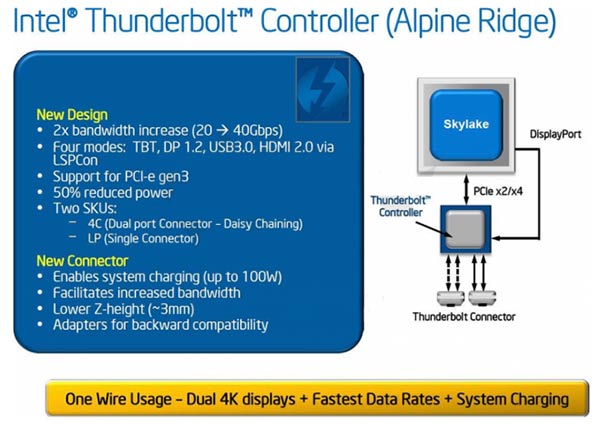 Other specifications listed in the slide bullet points highlight that the interface will support PCI-e gen3. This raises the possibility of faster remote graphics cards, useful for laptops for example. A single TB3 cable will be capable of driving two 4K displays. While these advancements have been made Intel has also managed to design the controller to use 50 per cent less power than previous Thunderbolt versions.
So far we don't have any indication of when this new Thunderbolt tech will arrive. You can see on the slide that the new controller is associated with Intel's Skylake which is quite a long way off, scheduled as the architecture refresh to follow Broadwell. Hopefully by that time there will be a lot more good reasons to want such a Thunderbolt interface on a PC.