Zuta Labs Ltd has designed a tiny mobile printer that was inspired by the idea of helping the print-head escape from of its chassis prison walls and then drive off to freedom in a mini robot. The team behind the printer also wondered why other devices have become more mobile over the last decade yet printers have remained entrenched in a left-right-left-right framework that limited their both output size and portability.
The Mini Mobile Robotic Printer by Zuta Labs is a Kickstarter project which has already surpassed the halfway mark of its US$400,000 crowdfunding goal in a single day. At the time of writing there are still $180 pledges available to secure a device (in black). Following an initial mass production run it is estimated that printers will be despatched to backers by January 2015.
You use the printer by placing it 'pointing' at the top left of your page and it roams around laying ink down appropriately, propelled by its omni-wheel. The device takes data in via Bluetooth from your computer (mobile apps are also in development). Looking at the prototype it didn't seem very quick and the team behind it quote a dawdling output speed of 1.2 pages per minute. With the device still in development and getting custom specially made components this might well improve.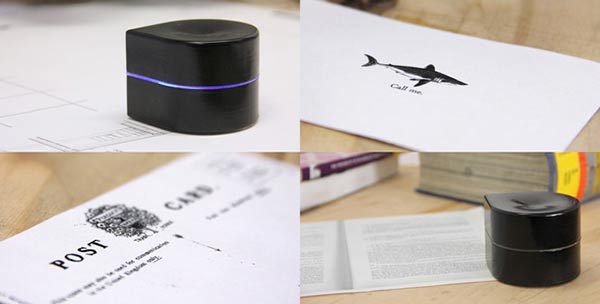 Mini Mobile Robotic Printer tech specs:
Physical dimensions and weight: 10 centimetres high and 11.5 centimetres in diameter and will weigh about 300g.
Materials: cover made from Polycarbonate.
Media sizes: any standard size.
Print Speed: 1.2 ppm (estimated according to the prototype specs).
Print Quality: currently the prototype can reach up to 96x192 dpi, the final product will have higher resolution.
Ink Cartridge Configuration: one black cartridge, over 1,000 page capacity.
Interface: Bluetooth, Bluetooth BPP, 1 x Micro USB.
Battery: Lithium Polymer, Run Time (Up to) 1 hour, Charge Time of 3 hours.
Supported Os: Android, iOS, Linux, OSX, and Windows.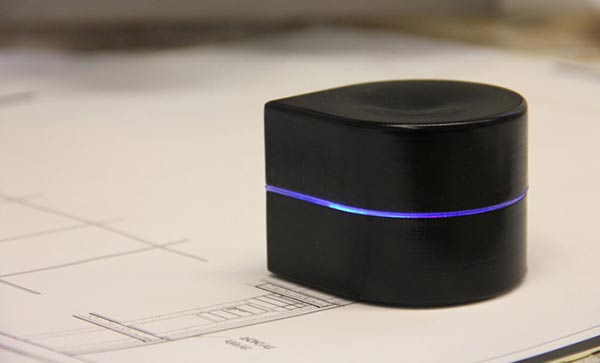 With its comparatively light weight and 'pocket' size it is thought that this portable device will be a favourite among mobile workers who often find it a struggle to print stuff out away from their base. Its rechargeable battery puts in a decent 1 hour of use which should provide over 60 pages on the go – when and where it is required. It will be interesting to see if the output resolution does increase in the final shipping product, as promised and if there will be any speed increases.