From today Maplin will have 3D printers available for sale within its high street bricks and mortar stores. It is the first UK retailer to have these revolutionary devices available upon its shelves. The electronics retailer chose the accessibly priced Velleman K8200 3D printer to start its campaign to popularise 3D printing. To get you started, with your £699.99 purchase, Maplin give buyers five metres of PLA plastic.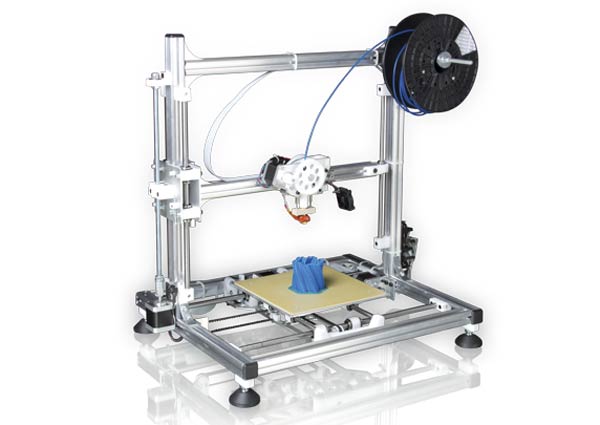 The specifications of the Vellemann K8200 are as follows:
Technology: FFF (Fused Filament Fabrication) for PLA and ABS 3mm plastic wire
Dimensions of printable area: 20 x 20 x 20cm
Typical printing speed: 120 mm/s
Extrusion nozzle: 0.5 mm
Movement: 4 NEMA 17 stepper motors
Print bed: heated
Resolution: Nominal mechanical resolution:

X and Y: 0.015 mm (smallest step the printing plate can move in the X and Y direction)
Z: 0.781 µm (smallest step the printing plate can move in the Z direction)

Nominal printing resolution:

Wall thickness (X,Y): 0.5 mm
Layer thickness (Z): 0.20 - 0.25 mm

System Requirements: A computer to Print from (Windows, MAC or Linux) and an Internet Connection for Manual and construction instructions
Product dimensions: 600 x 450 x 600mm
Power: 12V, 3A
The 5m of starter plastic will be black but there are supplies of this plastic available in colours including white, blue, red, orange, green, yellow and pink. The K8200 can only use one colour at a time and you can't swap the print head during a job. To print a multi coloured object you have to build it from separate components.
Maplin commercial director Oliver Meakin said he was excited to bring 3D printing technology to Maplin stores. The affordability of the Velleman K8200 kit means that Maplin thinks it is ready for the high street "We selected this model primarily because it offers high performance printing at an affordable price, making it accessible to our customers. In addition, it requires assembly before use, which fits with the 'build it yourself' ethos so central to Maplin's heritage".

With a maximum size of 20 x 20 x 20cm you will be able to produce quite substantial single piece designs but it doesn't sound like a very speedy printing process, the Maplin website says "To give you a baseline, to print a smartphone case would take about 30 minutes".
Out of stock?
Despite the press release announcing this high street launch today, the 3D printer appears to be sold out both online and in store if the Maplin website is correct. If you are interested perhaps you should phone up your local store before visiting. As I write this there is an expected 16 day wait for stock. I have noticed that the K8200 kit is also available direct from Velleman for £599 (update + VAT = £718.80 total, so Maplins is cheaper), it is also out of stock but Velleman will email you when more machines become available.