There's a fine line between weird and wonderful at the annual CES tradeshow, but US manufacturer SmartFish is hoping to fall into the latter category with the launch of the Engage Keyboard.

Unlike other ergonomic solutions, Engage has a trick up its sleeves - a built-in patented motion system that "studies your typing frequency and makes subtle, comfortable adjustments periodically so your hands and wrists are never in a fixed position".
A keyboard whose radial shape physically alters sounds infuriating, but SmartFish reckons the design can help prevent RSI (Repetitive Stress Injury). Lofty claims, but then the company behind the product was founded by a chiropractor and the Engage Keyboard was developed in collaboration with New York's Hospital for Special Surgery, so who are we to argue?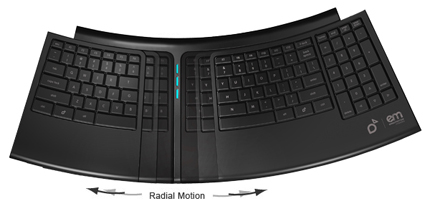 The keyboard itself looks to be very well designed and includes a dedicated numpad, but caring for your health rarely comes cheap. In this case, the Engage Keyboard commands a $149.95 asking price.