Thermaltake has just introduced its new BlacX 5G hard-drive dock to the market, bringing SuperSpeed USB along with it. Other than the new interface, the dock looks to be pretty standard fare, offering support for a single 3.5in or 2.5in SATA drive in a compact black frame. The dock is independently powered and will of course be backward compatible with older USB standards if your system doesn't support USB 3.0.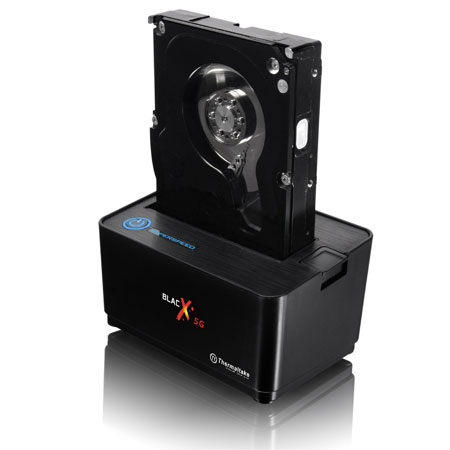 Thermaltake is promising massively improved transfer times compared to USB 2.0, with 5Gbps being the theoretical ceiling of SuperSpeed USB. This should be a huge plus for anyone who is tired of waiting for large files to crawl down a USB 2.0 connection, or wants to unleash that new SSD they have sitting around. Obviously, though, actual results are going to depend on the drive you're using with the dock – don't expect to set any transfer-rate records with that old 20GB, 5400rpm drive.




The BlacX 5G is set to arrive at $50 (around £39, including VAT), which is a significant premium over similar USB2.0 models already on the market. While the new interface will clearly be appreciated by some, it will be a hard sell for anyone still willing to settle for slower transfer speeds. The fact that, unlike the BlacX 5G, many cheaper models also sport an eSATA connection makes the price even harder to justify. The question is: how much is USB 3.0 worth to you?