Asus has launched its ROG Strix Go 2.4 gaming headset. The leading PC hardware and devices firm has delivered a particular innovation to this headset to try and set it apart from rivals - AI noise cancellation. Additionally it is claimed to be the world's first USB-C 2.4GHz wireless gaming headset.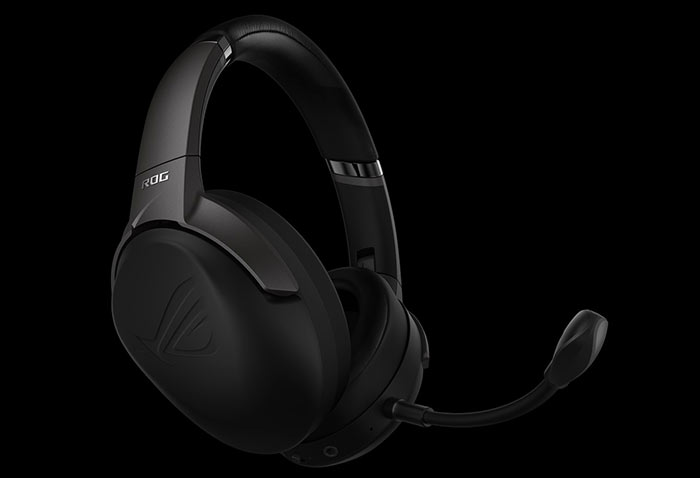 The Asus ROG Strix Go 2.4 gaming headset is wireless and uses a 2.4 GHz USB-C dongle for ultra-stable cordless connections on PC, PlayStation, Xbox or smart devices, and Nintendo Switch in handheld mode. Asus says the headset is light (290g) and comfortable to wear and has a long lasting battery (25 hours). It uses 40mm Asus Essence drivers for rich audio with deep bass for an immersive experience.
Moving onto the first of its USPs, the Strix Go 2.4 uses industry-leading, AI-powered noise-cancelling technology. This is great for both crystal-clear in-game voice communication and for enjoying audio / musical experiences in noisy environments. There is a detachable bidirectional boom mic, certified for Discord and TeamSpeak, as well as a built-in hidden mic for comms on the go. Whichever you choose Asus AI noise cancellation can do its job.
Providing some details on its AI tech, Asus says that its noise cancellation is built upon "a massive, 50-million-record deep learning database and tens of thousands of hours of training to accurately identify and counteract up to 95 per cent of environmental noises". Of course gamer essentials like keyboard clatter and background friends and family babble is covered.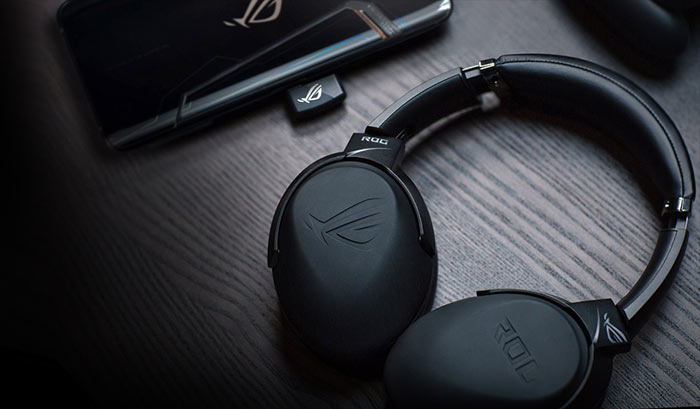 As mentioned in the intro, the other highlight of this product is its use of a low-latency USB-C 2.4GHz wireless connection. The dongle provided will work with "handheld Nintendo Switch, smart devices, PC, Mac & PS4, plus 3.5 mm connector," says Asus. It notes that the 3.5mm connector makes it acceptable for wired Xbox One use or for times when the built-in rechargeable battery might have run down. The range of the dual antenna wireless system is up to 20m.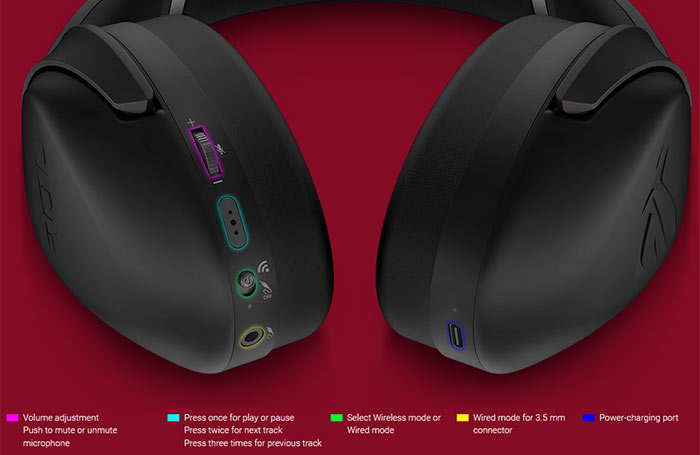 Regarding the audio quality, the Asus drivers are in an airtight chamber ear cup design designed for "true to life gaming audio". Users will be able to extensively tweak the EQ, levels, 7.1 virtual surround sound and more via Asus Armoury II software. Profile presets are provided for gaming genres like FPS and racing. The software also lets you check battery level and set a PC-controlled sleep timer.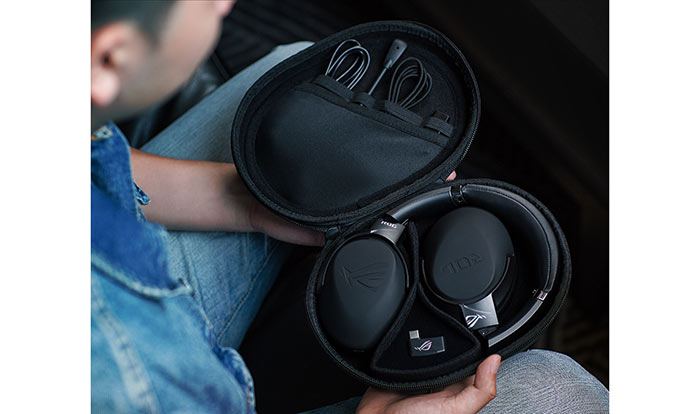 Asus told HEXUS that the ROG Strix Go 2.4 gaming headset will become available in the UK in December and comes with an MSRP of £159.99. Buyers get an attractive protective pouch for packing up the headset and accessories.
| | |
| --- | --- |
| Speaker Drivers | 40mm Asus Essence Neodymium magnet |
| Speaker Impedance | 32 Ohms |
| Speaker Frequency | Wireless: 20-20,000Hz; 3.5mm: 10-40,000Hz |
| Mic Type | Boom: bi-directional, Hidden: omni-directional |
| Mic Frequency | 100-8,000Hz (both the boom and hidden mics) |
| Mic Sensitivity | -54dB |
| Connectors | 3.5mm, USB-C dongle plus USB-A adapter |
| Accessories | Carrying case, 1m charging cable, 1.2m long 3.5mm cable, USB-C to USB-A adapter, quick start guide |
| Weight | 290g |