Cooler Master has made its MM710 gaming mouse available for pre-order. It says that this "truly innovative mouse," first seen at Computex this year, is inspired by modern design and feedback from gamers. A particular claim to fame of the MM710 is that it is said to be "the lightest mouse in the world," largely thanks to the honeycomb shell construction. Other niceties worth mentioning are its pro-grade PMW3389 optical sensor, the light low-friction Ultraweave cable, and 'superior' PTFE mouse feet coating.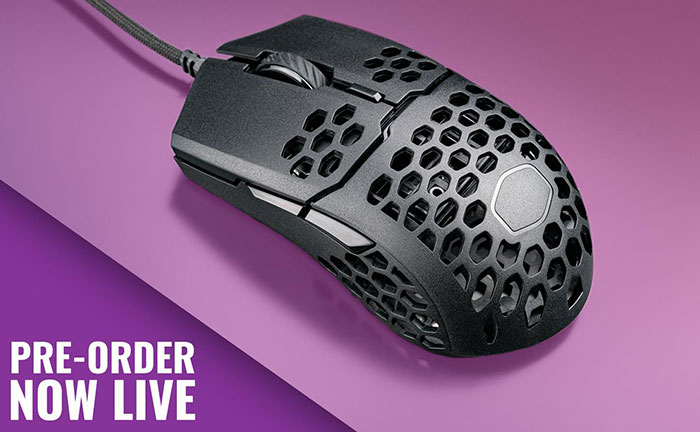 Cooler Master has cleverly used its hexagonal logo outline as the basis for the honeycomb design. These relatively large perforations significantly reduce the mouse construction mass, and you will see that the honeycomb is not just on the top of the mouse but also on the left and right sides and underside.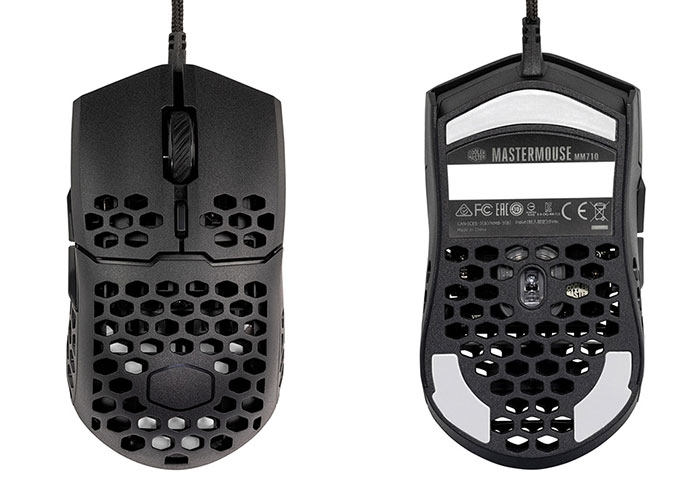 In addition to the lighter mouse shell, Cooler Master supplies a reduced weight low friction 'Ultraweave Cable' with the MM710. This keeps the overall weight of the MM710 down to <53g. A further touted benefit of this cable is that there will be reduced cable pull while swiping. Overall the mouse lightness and low friction due to the cable and superior PTFE feet mean that you will be able to pull off "the fastest flick shots and goodbye to wrist fatigue," reckons Cooler Master.

Cooler Master MM710 mouse summary
Lightweight Honeycomb Shell - New perforated housing is engineered to be supremely durable and lightweight, meaning you can play longer without fatigue
Ultralight Ultraweave Cable - Innovative ultraweave cable significantly reduces weight and cable pull while swiping. Fight against your enemies, not cable pull.
Superior Mouse Feet - PTFE material provides smooth control with a low friction, consistent glide
Gaming-Grade Optical Sensor - Adjustable up to 16000 DPI for greater control, precision, and future-proofing
Ergonomic, Ambidextrous Shape - Optimized for right-handed gaming with two extra buttons for added convenience
High Grade Quality – Omron switches for left and right click are graded for 20 million presses that remain accurate and true till the end
If you are interested in the Cooler Master MM710 mouse you can pre-order now with availability scheduled for September (Europe), and more precisely, 24th September in the US. It is available in black and priced at €49.99 / $49.99.