eSports PC gaming peripherals specialist SteelSeries has launched a new mouse, its first to offer a dual optical sensor system. The new SteelSeries Rival 600 gaming mouse includes TrueMove3+, which combines a TrueMove3 primary sensor and a second PixArt optical sensor that exclusively tracks lift-off distance. The point of the dual sensors is to completely jitter and cursor disparity on liftoff movements, and the Rival 600 "offers the lowest lift-off distance in the market," claims SteelSeries.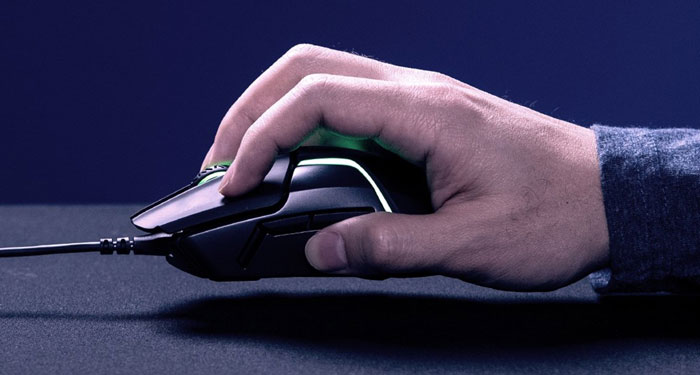 "This is a breakthrough in gaming mouse sensor technology," said SteelSeries CEO, Ehtisham Rabbani. "We took a massive leap forward in sensor innovation with Pixart with the TrueMove3 sensor in the Rival 310 and Sensei 310. Now we're taking that innovation even further by combining the true 1-to-1 tracking of the TrueMove3 with a second optical sensor for precision. It's the only dual optical sensor system in the world that can offer this level of precision and accuracy of movement."
Looking at the sensor specs; the TrueMove3 is a 12,000 CPI, 350 IPS optical sensor built by PixArt to SteelSeries spec. It is unhindered by jitter reduction and tracking latency thanks to the custom SROM, claims SteelSeries, offering 1-to-1 tracking from 100 to 12,000 CPI.
As indicated in above, the second sensor comes into play when a user lifts up the mouse. The lift off distance is customisable - for when the mouse stops and starts tracking – avoiding unwanted extra movement when the mouse is picked up and put down again. The second sensor also features linear optical detection for true depth perception for the world's most precise lift-off detection down to 0.5mm (and up to 2mm), says SteelSeries.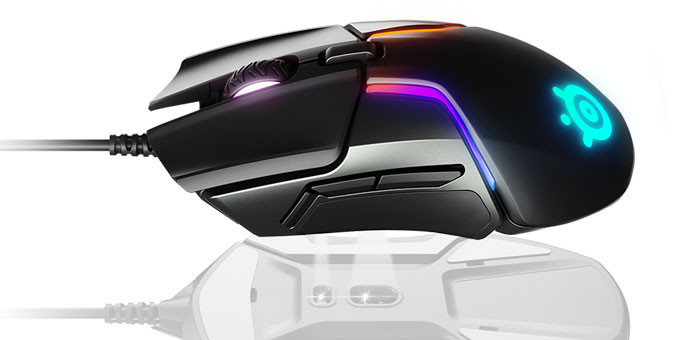 Like other members of the Rival line, the Rival 600 is an ergonomic right-handed mouse, and this design has 7 buttons in total. SteelSeries says that the left/right clicks "feature a revolutionary reinforced trigger system that delivers the best clicks in gaming". These switches are rated for 60 million actuations.
Considering the overall design, this new Rival is finished with a black soft touch surface over its fibre-reinforced plastic chassis. It features silicone compound side grips. Measurements are: 131mm long x 62-69mm wide, x 43mm high. A detachable 2m long soft rubber cable is provided. The Rival 600's weight is very flexible. Starting from 96g, users can add weights to the sides in 4g increments. Eight weights are included in the box and users can distribute them for the balance they desire. Last but not least this mouse offers RGB lighting over 8 independent zones.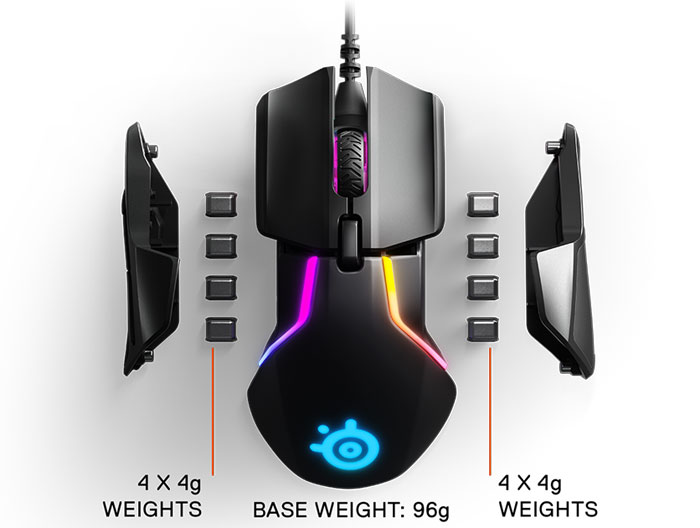 Inside the Rival 600 is a 32-bit ARM processor for low-latency performance and which allows you to save CPI and lift off sensor settings, custom lighting effects, button key-binds and full macros on-board for portability. As usual with a SteelSeries gaming peripheral, you can fire up the SteelSeries Engine Software for functional and lighting customisations.
The Rival 600, with the exclusive SteelSeries TrueMove3+ Dual Sensor System, is available now online at SteelSeries.com and Amazon for £79.99.