Intel has announced the 'Titan Ridge' Thunderbolt 3 controller series. The new JHL7x40 Series is comprised of three controllers, backwards compatible but with extended capabilities compared to JHL6x40. In particular, the new JHL7540 and 7340 controllers add DisplayPort 1.4 capability for increased video performance, to the existing Thunderbolt 3 40Gb/s peripheral connectivity performance.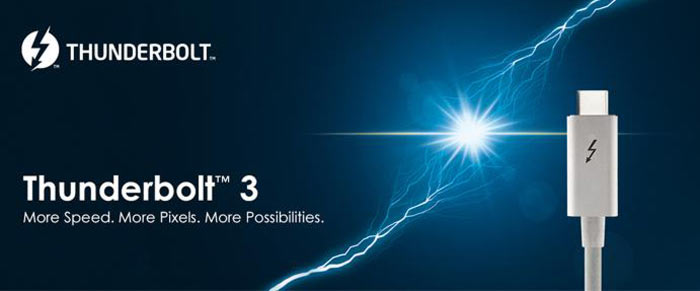 Flexibility
The new JHL7440 will be welcomed by Thunderbolt 3 monitor and enterprise dock makers, thinks Intel, in one of the new monitors or docks sporting an Intel JHL7x40 Series Thunderbolt 3 controller. With such a setup Intel says that the controller "can intelligently provide more performance and features when connected to a Thunderbolt 3 computer port, and basic compatibility when the Thunderbolt 3 monitor or dock is connected to a USB-C computer port."
Gamer attraction
On the topic of gaming, Intel says that more and more makers will be offering TB3 gaming monitors in 2018. "Gamers can connect one or daisy chain two Thunderbolt 3 monitors with 2560 x 1440 resolution at a 144Hz refresh rate, while simultaneously transferring massive game libraries between a notebook and game drive at up to 40Gb/s," boasts Intel. Furthermore TB3 monitors will allow for easy USB 3.1 connectivity on the desk, rather than squirreled away on your PC chassis somewhere.
Backwards compatibility with earlier Thunderbolt computers, cables, and peripherals is assured. Intel expects its new JHL7540, JHL7340, and JHL7440 controller based products to reach the market this year.
JHL7540 and JHL7340 features for computer makers
40Gb/s and PCIe Gen 3 (same as JHL6x40 series)
Support for DisplayPort 1.4
JHL7440 features for peripheral device makers
40Gb/s and PCIe Gen 3 (same as JHL6x40 series)
Support for DisplayPort 1.4
USB-C computer port compatibility (optional)