Intel has issued 'Product Discontinuance' notices for a range of WiGig technology networking components. As The Register reports, Intel sought to sell WiGig fast wireless networking components for laptops and peripherals, however it never really gained traction. Intel WiGig product orders will no longer be taken after 29th September, and shipments cease from 29th December 2017.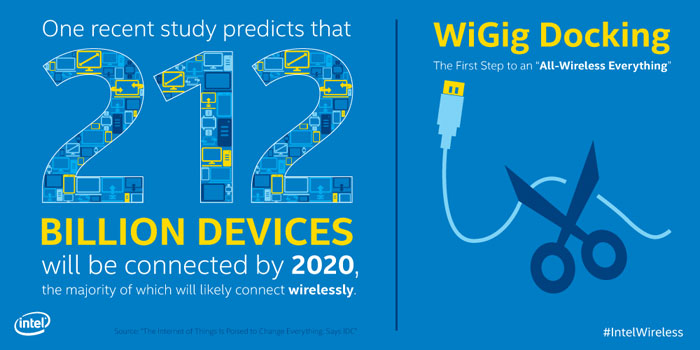 WiGig's appeal is its very fast wireless connectivity, up to 4.7Gbps of bidirectional bandwidth, but it requires line of sight within a 30ft range, and dedicated Intel chipsets in both computer and peripheral(s).
Laptop docks were the product segment in which Intel had the greatest hopes for WiGig. The approx $200 docks could connect a suitable laptop to peripherals, networks and even monitors without any wired clutter. Laptop docks are popular with mobile workers, I've owned a couple of wired docks I used to leave on a desk with various connections in place so a wireless one wouldn't really have offered greater utility value - my wired docks could also charge the laptop battery.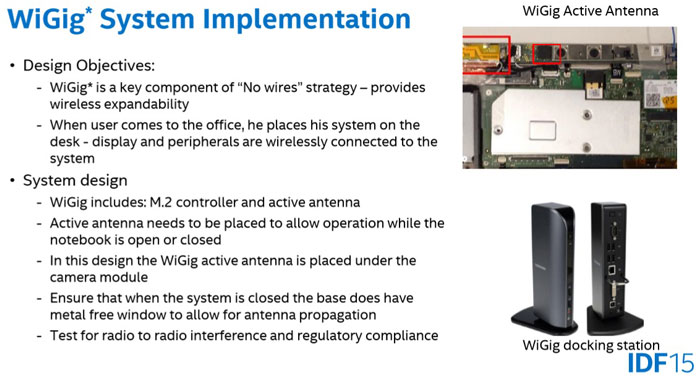 VR future
The discontinuation of its current WiGig components doesn't mean the end of the use of Intel's 60GHz 802.11ad technology. "Intel will focus its efforts on current and future WiGig for VR," states the official discontinuation notice. The line of sight and range issues shouldn't be an issue with VR headsets. On the other hand the cord-free fast data transmission will be a boon.
If Intel is looking to sell lots of components for VR headset makers The Register reminds us that it might be heading into an even smaller market than the one it is exiting. However, many industry analysts do see VR and AR as a growth area in coming months and years.