Today Logitech released a new gaming keyboard aimed at eSports professionals. The new Logitech G Pro tenkeyless mechanical gaming keyboard is compact and durable, said to be engineered for "extreme performance, and designed to win". The black minimal looking design provides "everything you need, and nothing you don't," for pro gaming achievements, asserts Logitech.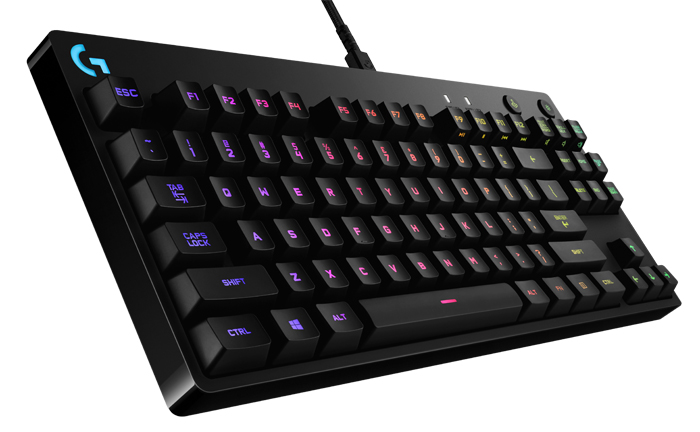 Logitech uses its own designed Romer-G keyswitches in this product as it often does. It doesn't say whether versions of this keyboard will become available with Cherry MX alternatives at some point. However, Romer-G keyswitches are claimed to offer the fastest response (25 per cent faster than 'standard'), a quiet action with a 1.5mm actuation point, and the greatest durability ratings available.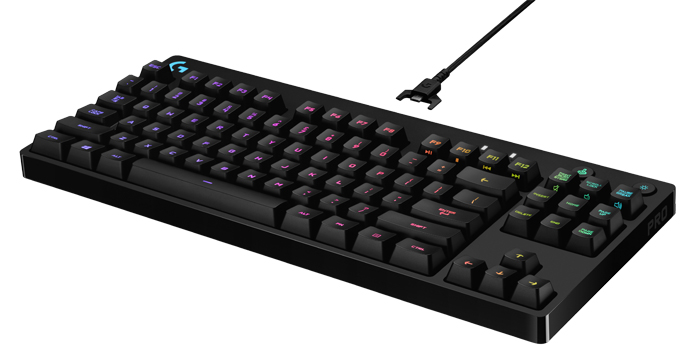 The new G Pro tenkeyless mechanical gaming keyboard was built in collaboration with the CS:GO Cloud9 team. "This is a great keyboard because it's small, durable, and tenkeyless. This allows me to have more space on my table," said C9's Jake 'Stewie2K' Yip. "The Romer-G switches are nice and quiet, and they're super comfortable to type on." We don't know exactly how much influence the team's opinions had on the finished article but the following list of features do seem to be gamer influenced:
Ultra-fast quiet and comfortable keyswitches,
Durable construction,
Tenkeyless for more mousing room,
Detachable 6ft (1.8m) micro-USB cable with reinforced connector,
26-key rollover (more than the sum of your fingers and toes)
Function key macros (require LGS),
Game Mode to disable and keys you don't need (if you don't use LGS then Game Mode simply disables Windows keys),
Customisable per-key 16.8 million colour backlighting, programmable via the optional Logitech Gaming Software (LGS) suite which boasts 300 gaming presets.
Logitech's new gaming keyboard measures 153 x 34 x 14mm and weighs 980g (without cable). Its rake is adjustable from zero to 4 to 8 degrees, with rubber feet in place to aid stability.

As you can see from the linked product page, the US price of the Logitech G Pro tenkeyless mechanical gaming keyboard is $129.99 with free shipping. In an email to HEXUS Logitech said it has set a UK RRP of £129.99. Buyers get a two year warranty.