Logitech has released a new wireless keyboard and mouse desk set today. The new MK850 Performance Wireless Keyboard and Mouse is a matching combo "designed for all-day comfort and increased productivity". Beyond the usual design and colour coordination this pairing leverages some interesting Logitech technology such as DuoLink and Easy-Switch. Both peripherals use either Bluetooth Smart or 2.4GHz wireless for connectivity.
The keyboard
The MK850 Performance wireless keyboard is a full sized input peripheral with "carefully-crafted keys designed for all-day comfort". Helping further in the comfort stakes is its cushioned palm rest, the slight keyboard 3D curvature helping your hands stay at a more natural angle, and the adjustable tilt legs. Batteries in the keyboard should provide approx 3 years of service. This keyboard measures 25mm x 430mm x 210mm and weighs 733g.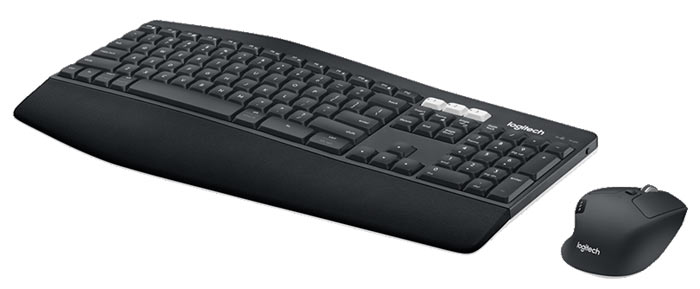 The mouse
Logitech's contoured wireless MK850 Performance mouse is contoured for right handers and comes with a non-slip soft rubber surface. This rodent has 8 buttons, probably enough for most users. Some features Logitech is keen to highlight about the mouse are its 'Hyperfast' scroll wheel, and the 1000dpi Logitech Advanced Optical Tracking sensor. Batteries in the mouse should provide approx 2 years of service. The mouse measures 45mm x 74mm x 115mm and weighs 135g.
Together
A nice extra feature of this keyboard and mouse combo is the Logitech Easy-Switch technology. This allows you to link with up to three connected devices from the same keyboard/mouse. That's good as the keyboard is compatible with Windows 10 or later, Windows 8, Mac OS X 10.10 or later, iOS 5 or later, Chrome OS, and Android 5.0+. The mouse is not as widely compatible but works with Windows 10 or later, Windows 8, Mac OS X 10.10 or later, and Chrome OS.
DuoLink is another good combo feature available to users of this desk set (see demo above). Thanks to the Logitech Options software users can set the mouse buttons to provide a different set of actions and gestures when holding the down the keyboard Fn key. Logitech gives an example of this being useful for task and screen switching, music control, and so on.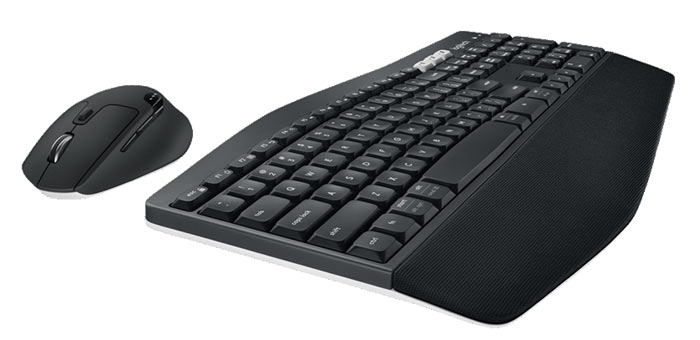 The Logitech MK850 Performance Wireless Keyboard and Mouse Combo is available today (in various language layouts) at Logitech.com, for £99.99 including shipping. Buyers get a 2 year guarantee.