Mushkin, best known for its computer RAM and SSDs, has diversified into the computer peripherals market. Like firms before it, notably G.Skill and Patriot, this diversification is hoped to bring cash into company coffers, supplementing the income from the cutthroat memory and storage components market. Also like similar companies, Mushkin has specifically targeted the big fat money making PC gaming segment.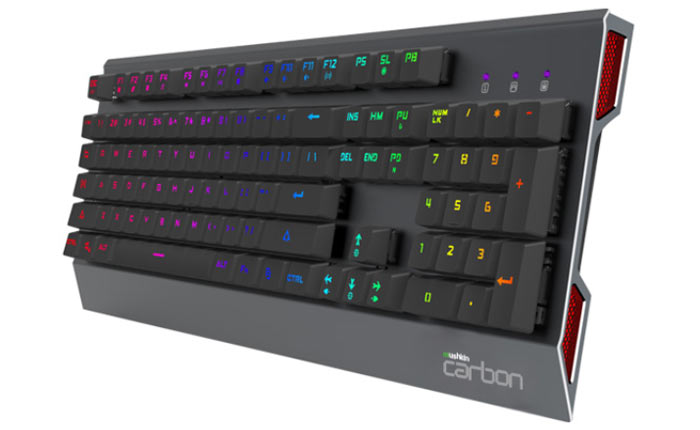 The Mushkin Carbon KB-001 was teased at the recent CES 2017. The keyboard employs a CNC carved aircraft-grade anodized brushed aluminium top plate. Underneath, the keys are supported by a PCB with double fibreglass construction. At the front there is a permanent but minimal sloping wrist rest area.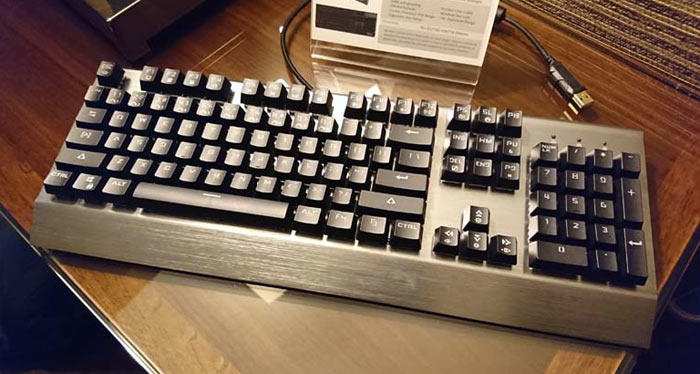 Overall the design looks rather clean for a 'PC Gamer' design but that can easily change with the RGB LED lighting turned up to the max (there will be a mono-lit version coming too). Also on the sides (top photo) you can see some glowing red radiator grille 'feet' in the angled view.

At the CES Tom's Hardware was told that the 104-key Carbon KB-001 would utilise the Kailh Brown keyswitches but it isn't sure if more switch choices will be forthcoming. Other keyboard features include; full n-key rollover, anti-ghosting, a Windows key lock, and a braided fibre cable. Another article about the Carbon KB-001, by The Tech Report, says that the lighting can be tweaked and adjusted per-key. That story source pictured a shinier aluminium prototype and said that Mushkin would be pushing out these new gaming keyboards from around US$70.