Cherry Americas has announced that it has launched its Silent and Silent RGB switches for the professional keyboard market. Previously these switches had been exclusive to Corsair, and featured on that company's Strafe gaming keyboards. Cherry is releasing MX silent key switches in two switch types; Red stem, or Black stem types. Either version will be available as a standard key switch or in an RGB illuminated version.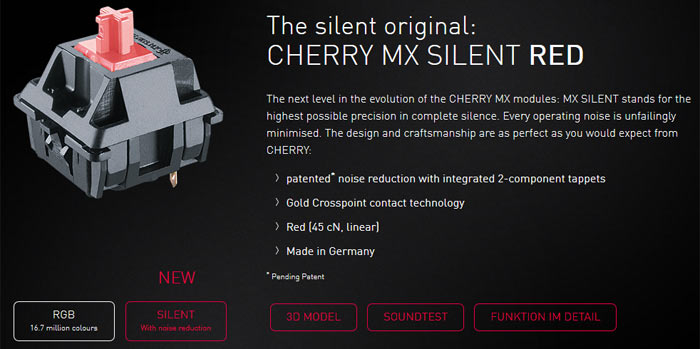 With its 'Silent' switches Cherry has endeavoured to seek and minimise every source of operating noise. With previous non-Silent key versions some typists would equip rubber o-rings to minimise bottoming out sounds (caused by the key hitting its lowest level and impacting the supporting structure).
Cherry's patent pending silencing method doesn't affect typing feel, according to the company. It uses two-component tappets in which the precision switching slide has been supplemented with a TPE elastomer component. As well as minimising bottoming out sounds it reduces the lesser reported topping out noise generated with each keystroke.
Cherry MX Silent Red
These key switches activate with a 45cN, linear force. Distance to actuation point is 2mm. Switching and 'click' points are undetectable. Cherry says bounce time is under 5ms.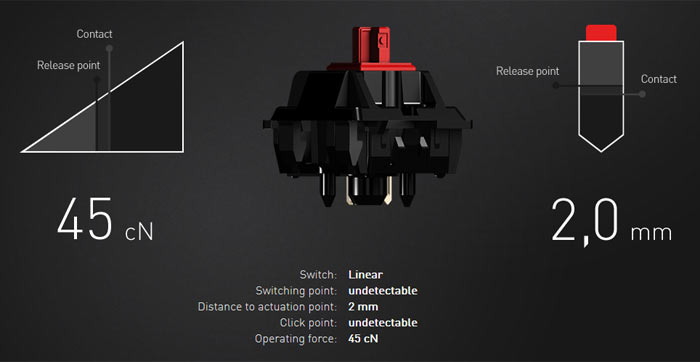 Cherry MX Silent Black
Black keyswitches are very similar to red ones in construction and actuation but require a noticeably greater force to operate. The official figure is of a 60cN operating force to actuate these switches. Like the reds the switching and 'click' points are undetectable.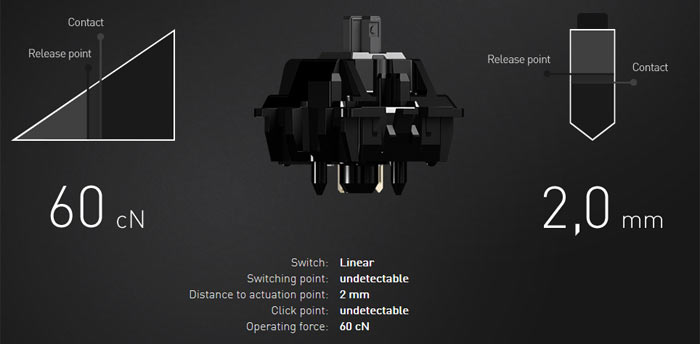 Now Corsair's timed exclusive period is over, those who would appreciate 'silent' Cherry MX Red or MX Black type switches from other keyboard makers should keep their eyes peeled.