Asus has just revealed a new external USB soundcard. The Asus Xonar U7 MKII USB soundcard and headphone amp is a compact and portable device with plenty of audio connectivity options and a physical volume control on top. It provides true 7.1- channel surround sound and is powered by the Cirrus Logic CS4398 digital-to-analogue converter (DAC).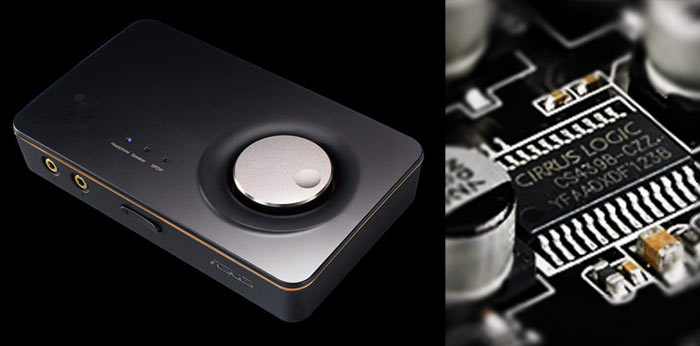 The official highlights of the Asus Xonar U7 MKII are as follows:
True 7.1-channel, 192kHz/24-bit HD surround sound with a 114dB SNR from a compact, USB-powered device,
Integrated headphone amplifier boosts sound and reveals musical details,
Dedicated headphone and mic volume controls enable instant audio adjustments for better gaming and media streaming experiences,
Clickable volume control knob for convenient switching between headphone and speaker output,
Sonic Studio software suite with intuitive, single-screen interface and Sonic Radar Pro for mapping opponent locations in first-person shooters.
Helping achieve the claimed 114dB SNR, Asus employs its proprietary Hyper Grounding technology. That might be especially appreciable using headphones. A headphone and microphone port both reside on the front of the unit alongside a quick-adjust microphone level rocker. On top of the device you can quickly swivel the dedicated volume control, or click it to toggle output (headphones/speakers), and there are LEDs indicating active headphone, speaker, and SPDIF connections.

Home theatre enthusiasts are also targeted with the wide array of ports on offer. The Xonar U7 MKII provides analogue outputs (two RCA and three 3.5mm stereo), or digital SPDIF output for your cinematic delights.
For gamers, Asus highlights the convenience of the device's ports and volume control plus functionality delivered by Asus Sonic Studio. As well as standard audio features such as equalization (EQ) and 7.1 surround speaker level-balancing the Asus software has a function to precisely map in-game sounds and provide an in-game overlay with source sound direction. Thus gamers can "pinpoint their enemies for a competitive advantage in FPS games," asserts Asus.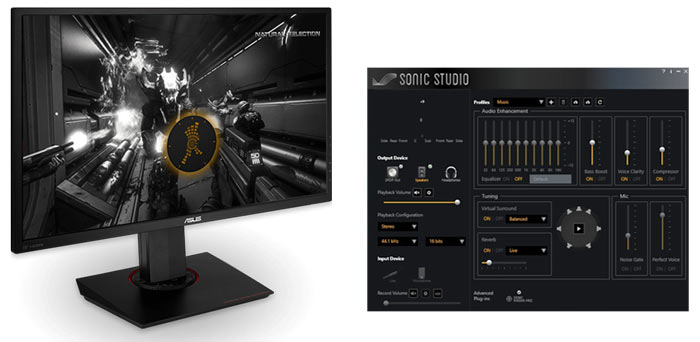 The Xonar U7 MKII USB soundcard is compatible with Windows versions 7 and up. Pricing and availability information hasn't been released.