Bloodrage: not for the faint-hearted
Foxconn's high-end motherboards are notorious for a) their enthusiast-friendly designs and b) their tendency to be late to market.
The giant Taiwan-based manufacturer, however, is hoping to rectify the latter with a pair of X58-based motherboards that are on course to arrive at retail as soon as next month.
The boards, dubbed Bloodrage and Renaissance, cover two of Foxconn's product lines; the high-end Quantum Force, and the media-orientated Digital Life. We'll be taking a look at both, but let's start with the vicious-looking Bloodrage.
Bloodrage, pictured below, is to be Foxconn's top-of-the-line X58 offering and it certainly looks the part. The black-and-red design makes for one of the best-looking X58 boards around, we feel.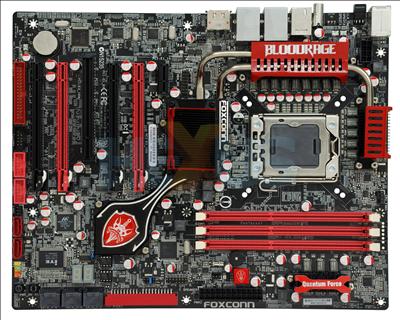 As part of its Quantum Force range, it promises to make "for extreme overclocking performance with rock-solid reliability", and consequently utilises all the usual goodies. Users will find Japanese-made 100 per cent solid capacitors, ferrite chokes, and a 14-phase Hybrid PWM with DirectFET MOSFETs.
As you'd come to expect from an overclocking-friendly board, it provides onboard power, reset and CMOS reset buttons, as well as a two-digit debug LED.
But what else has Foxconn brought to the table? The first thing you're probably scratching your head over is the number of memory slots. Unlike the majority of X58 boards, Foxconn has opted to offer just three tri-channel DDR3 memory slots, as opposed to six, and it actually makes sense. The board supports DDR3 at speeds of up to 1,800MHz, and can manage up to 12GB of memory (3x4GB modules). That's more than enough, we feel, and it frees up a little room on the board and could result in savings that are passed onto the consumer.