GeCube have joined the foray of new launches today based on the HD2000 series of graphics processing units (GPUs) with a range of SKUs based on AMD's R600XT, RV630XT and RV610LE graphics solutions.

Kicking off at the top end of the market, GeCube have announced details of their AMD HD2900XT powered solution which features reference clock speeds of 740MHz, teamed up with 512MB of GDDR3 memory running at speeds of 1.65GHz, fed by a 512MB memory bus controller.

Shader Model 4.0 and DirectX 10 support come as standard, together with built in HDMI support, 5.1 surround sound and VIVO (Video-In-Video-Out) functionality completing the package.

Valve's 'Black Box' gaming suite, comprising of Half Life 2: Episode 2, Team Fortress 2 and Portal are also included with the bundle and will be downloadable via Steam later in 2007.

Moving on, GeCube also released information about their SKUs powered by the RV630XT and RV610LE GPUs, with the first being the HD2600 series powered by the former, and the HD2400 series, powered by the latter,

The HD2600 series will feature, what GeCube terms as, X-Turbo2 silent fan technology, whilst the RV630XT GPU onboard, is married up with 512MB of GDDR4 memory. The core clock speed has been announced as being 800MHz, however, the memory clock speeds appear to be undecided at the time of going to press.  The 512MB of GDDR4 memory, unlike that of the higher end R600XT part, is fed by a 128-bit memory controller, rather than the 512MB memory bus controller part of the R600XT's feature set.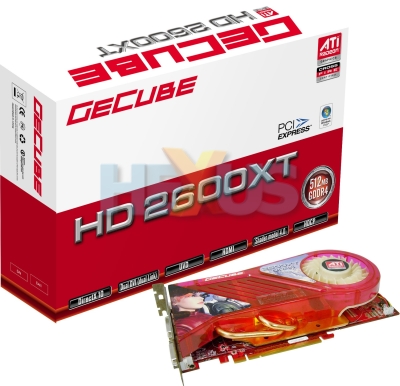 The HD2400 series, powered by the RV610LE GPU finds core clock speeds and memory speeds undecided at the time of going to press, yet will ship with 256MB of onboard DDR2 memory, fed by a 64-bit memory bus controller.

GeCube go on to cite that both their HD2600 and HD2400 SKUs support the latest UVD (Universal Video Decoder) video processing technology and of course, offer DirectX 10 and Shader Model 4.0 support off the mark.

Read the press release in full here.