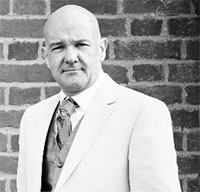 We reported recently that AMD had cut prices of Radeon R9 290X and R9 290 cards in direct response to the aggressive pricing of the GeForce GTX 970 GPU launched last month. Evidence of this cutting was obtained through a mixture of industry conjecture and real-world pricing at established retailers, where the R9 290 and R9 290X have been available for £215 and £269, respectively.
Putting the record straight, AMD gaming scientist Richard Huddy, pictured right, has confirmed to HEXUS that AMD has made no move in GPU pricing for its band of add-in board (AIB) partners. AMD executives are 'agitated' that such a move has been presumed by the press, he says, and any price alterations are at the behest of the partners, not AMD itself.
Agitated executives
One partner, XFX, has seen the £250-odd introduction of the GeForce GTX 970 and changed its Radeon R9 290 and R9 290X pricing accordingly, to provide stern competition for Nvidia's latest GPU. Huddy did go on to say that AMD's partners are running promotions in the channel that enable this new pricing, though no details were forthcoming on how exactly this will be rolled out.
With AMD taking no manifest part in the price repositioning for its premium Radeon GPUs, partners other than XFX will need to decide how and when to implement their own pricing moves. XFX's R9 290X Core Edition retails for £269 at Scan.co.uk while the next-best pricing is £329 for an MSI card.
Huddy went on to say that AMD has no visibility on how long XFX's aggressive pricing, which took effect on the same day as the Maxwell launch, will remain active - it could be weeks or months, depending upon how quickly XFX's reserves are depleted.
Partners decide
MSI, Gigabyte, Asus, Sapphire, et al, will need to respond to the Maxwell GTX 970 threat in their own time and way, though AMD believes across-the-board pricing realignment will happen sooner rather than later, based on prevailing market economics.
Our takeaway is that very few Radeon R9 290(X) cards will match what XFX has to offer, as profits are coming out of partners' pockets, so if you want to snap a high-end Radeon up, then now is a good a time as any.
Drawn on whether these Radeons remain a good buy when compared against the nascent Nvidia competition, Huddy believes the Radeon R9 290 to be a great competitor against the GeForce GTX 970, particularly at higher resolutions, and the Radeon R9 290X a solid fit against the dearer GeForce GTX 980. He cites a better gaming bundle, superior multi-GPU implementation and Mantle support as key reasons why, taken as an ecosystem, AMD outperforms Nvidia.
But AMD Radeon is better?
It stands to self-preservating reason that an AMD executive harbours a jaundiced view of the state of play with respect to high-end desktop graphics, but he makes a fair point: purchasing decisions should be based on more than pure hardware alone. We believe, however, that GeForce GTX 970's pricing has caught AMD and its partners by surprise.
The bottom line is that there are no AMD-enforced price cuts. Partners decide what's best for them. Simple economics dictate that Radeon R9 290(X) pricing needs to be reduced by all partners if they're to remain competitive in the current landscape.
Those are the facts. What about you, the readers, what does the AMD graphics team need to do to sway your attention away from the two new GeForce 900-series GPUs?