PowerColor is reportedly working on a liquid-cooled HD 6990, but Point of View and TGT are said to be ready with an NVIDIA GTX 590 flavoured option of their own.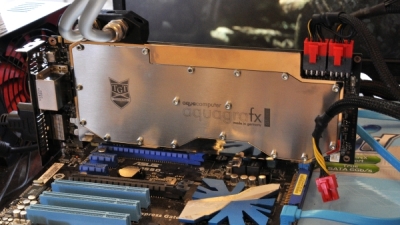 The GTX 590 Beast, as it's known, has an aquagraFX water block from Aqua Computer strapped on, and apparently performs quite admirably - roughly 30°C cooler than air cooling - coming in at around the 50°C mark.
Clock speeds are also bumped up to 691MHz, 1,382MHz and 3,710MHz (effective) for the core, shaders and 3,072MB GDDR5 memory, respectively. It doesn't appear that everything could be squeezed into a single-slot format though, as PowerColor seems to have achieved with the LCS HD 6990.
If it's pricing that has peaked your curiosity, how does the £700+ ballpark sound?