Force3D, a relatively new start-up in the graphics-card market, is on a mission to cool down AMD's Radeon HD 4870.
The Taiwan-based manufacturer recently announced its intentions to slap Arctic Cooling's Accelero Twin Turbo cooler to its Radeon HD 4000-series graphics cards, and it's now following that up with the introduction of its Radeon HD 4870 Freezer DHT.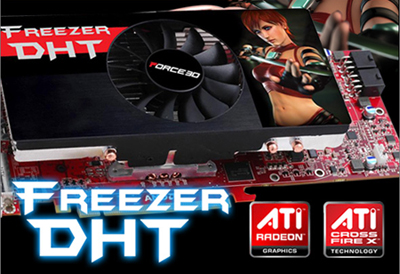 The card, pictured above, uses Direct Heatpipe Touch (DHT) technology to transfer heat from the GPU and maximise cooling. Force3D claims it'll lower temperatures by up to 33 per cent more than AMD's reference design.
It features an aluminium heatsink and an 80mm (2,500rpm) hydromantic fan. Sadly, it'll still blow that hot air into your chassis, as opposed to pushing it out the back.
Force3D is yet to confirm pricing and availability, but it's on the way.
Official press release: Force3D is now ready for Freezer DHT