Innodisk launched a 4K capable M.2 form factor graphics card late last month, and according to a report from PC Watch Japan, the component is now available. The target market for this product is the industrial embedded sector, so we aren't looking at a powerful GPU on an M.2 card here, but it is nevertheless an interesting concept and could one day lead to laptops or SFF systems with simple upgradable graphics cards, for example.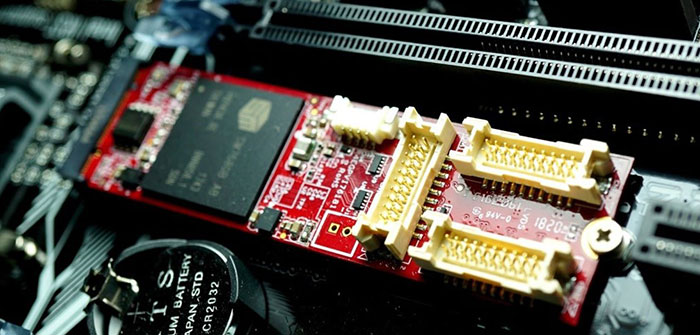 In its press release Innodisk asserts that the M.2 graphics card is one the fastest growing segments among small form factor display cards today. Its new card can be fitted with ports to connect to display devices using an embedded HDMI v1.4 transmitter, or LVDS and DVI-D signals, it says, and this new 2280 card is compatible with Windows and Linux.
Elsewhere in the press release we are told that the Innodisk ultra-slim 4K M.2 graphics card is built to withstand industrial grade shock and vibration, and can operate in temperatures ranging from -40 to 85 degrees Celsius. It is envisaged that these 4K display cards will be used in automation, retail and medical markets for space-saving solutions.

You can find out more about the GPU equipped on the Innodisk 4K M.2 graphics card on Silicon Motion's site. This new product uses the SM768 (PDF link available at previous link). There it says the SM768 can interface via USB 3.0, PCIe 2.0 x1 or x2 lanes. It is a 2D accelerator and capable of a max resolution of 3840x2160 @ 30Hz, lower resolutions from 1440p downwards support 60Hz refresh. The GPU comes with an optional 256MB DDR3 on board but it is possible to hook it up with as much as 1GB of memory. HW decoding of H.264 MVC/AVS+, H.263, MPEG-4, MPEG2, M-JPEG, RealVideo, VC-1, & Theora videos is supported. The SM768 also has an internal four ports USB 2.0 Host/Hub for connecting peripherals such as keyboard and mouse.