Shhhh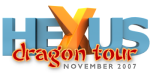 ECS became an NVIDIA GPU partner just over a year ago and has stuck to the reference design for the most part, citing fast-to-market times and competitive prices.

It seems as if someone has spiked the design team's coffee recently, as ECS is now launching a non-reference GeForce 8800 GT 512MiB graphics card with zero-noise cooling.



Teaming up with experts Arctic Cooling, ECS's GeForce 8800 GT has the giant Accelero S1 strapped on to the 65nm core.



The passively-cooled card will be shipped at stock frequencies and its huge dissipation area is said to require minimal chassis airflow to keep the GPU humming along without overheating.



ECS, though, will ship its card with the optional Turbo Module, providing better-than-reference cooling without the accompanying racket. Indeed, ECS claims a near-20deg C reduction in load temperatures with the module in place, albeit with that statement tempered by the need to have decent chassis airflow.

Our one concern is with the inability to easily connect another card to form multi-GPU SLI: the cooler gets in the way and ECS would need to bundle a flexible-style bridge. The problem is exacerbated somewhat by the knowledge that the cooler takes up an additional expansion slot over and above that of the single-slot reference design.





No word on pricing but we'd expect it to cost around £180. It will be on sale next month, representatives were keen to state.

ECS is one of those companies that indulges the enthusiast from time to time, and here's a product that's bound to raise a few eyebrows from folk who associate the company name with cheap, cheerful motherboards alone.