Zalman has launched the Reserator 3 Max CPU cooler. The South Korean PC specialist accessory company describes this liquid cooling solution as the "ultimate water cooler". When first shown off at the 2013 CES Show, early this year, this cooler won an Innovations Award. The Reserator 3 Max isn't an 'ordinary' water based CPU cooler though, as it is the world's first to utilise nanofluids.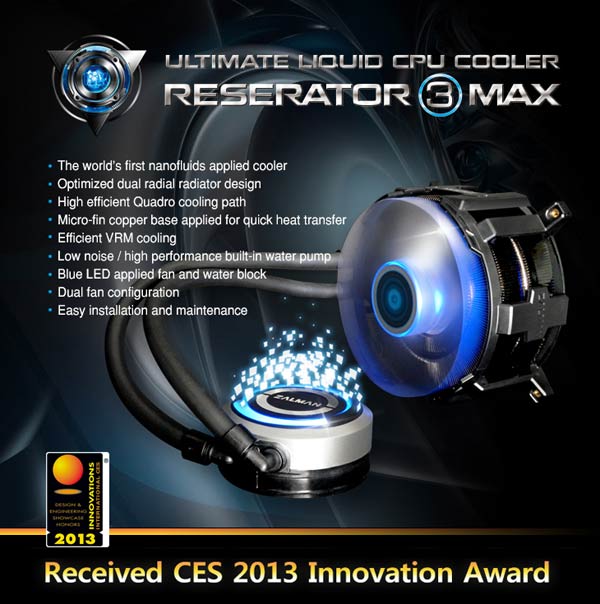 Zalman believes that the use of these nanofluids in its cooling solution offers significantly better cooling. The use of refrigerant nanoparticles combined with the other Zalman air and liquid cooling tech, as used in the Reserator 3 Max, help make this the "ultimate" cooling solution according to Zalman. "Using nanofluid coolant improves thermal conductivity by mixing nanoparticles with fluids," explains Zalman's information page.
Zalman Reserator 3 Max specifications: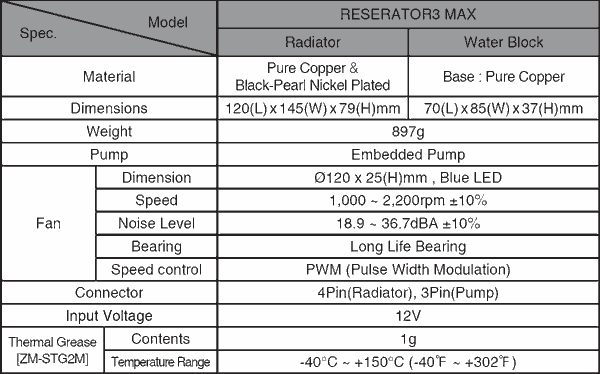 Beyond the headlining feature of being the world's first nanofluid liquid cooler the Reserator 3 Max also uses the following cooling technologies; a slim fin pure cooper dual radial radiator designed for optimized air flow, a 'Quadro cooling path' which is "Four times more powerful cooling efficiency with two copper pipes", a Micro-fin copper base and pure copper water block, a low noise yet high performance pump which squirts 90 litres per hour, VRM cooling by induction within your PC case, a dual fan configuration is an option if required. Also Zalman has added blue LED lighting to both the fan and water block.
The Zalman Reserator 3 Max ships with fittings for most modern CPUs and motherboards and supports the following sockets; Intel 2011, 1366, 1155/1156, 1150, 775 and AMD FM2, FM1, AM3+, AM3, AM2+, AM2. A full listing of compatibility and supplied fittings is available now on the Zalman website.