We're pretty familiar with all-in-one CPU liquid coolers around these parts, having reviewed a few of Corsair's Hydro-series in the past. However, now case-builder Antec is getting into the game, with a product that looks strangely familiar.
The Antec KUHLER H2O series are self-contained liquid cooling systems that pack the pump, radiator and CPU block into one easy to install package that should be able to keep up with the best air coolers on the market. The first member of this new family will be the H2O 620, launching in late January for around $70 (£55 inc VAT) which will be followed by the high-end 920 a few months later.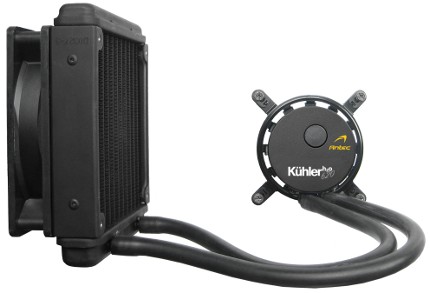 The reason that these look so familiar is that they were both developed in conjunction with Asetek, who also developed Corsair's coolers. The memory-maker has since moved on, and so Antec has swooped-in to team up with the liquid-cooling experts.
Although they might look aesthetically quite similar, Antec's line-up will be made up of refined third generation products which should be both cooler and quieter than the previous designs. The 620 will get the benefit of a thermally controlled fan and a new cold plate, while the 920 is a completely new design and comes with software to manage the CPU temperature, fan speed and the colour of the LED on the CPU block.
Based on Asetek's track record, we will have quite high expectations for Antec's line-up of all-in-one liquid coolers once they arrive over the next few months. If you can't wait that long, you can get a quick look at the new coolers in our CES coverage on HEXUS.tv.