Cooling-expert Scythe is well known for its monstrous tower coolers, but the company is trying something a little different with its latest product.
The new Rasetsu, pictured below, promises to deliver excellent cooling without requiring the massive amounts of space typically needed by high-performance heatsinks.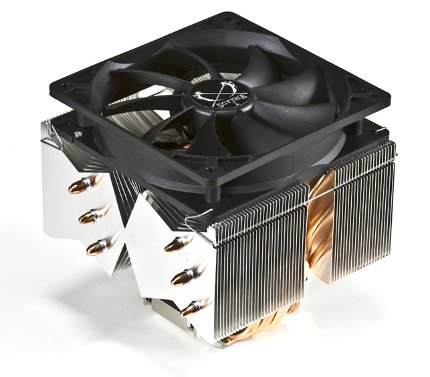 The cooler uses six copper heatpipes connected to an array of aluminium fins in what the manufacturer is calling a Trident Multi Layer Fin (TMLF) structure. This design, which was also featured on the company's Yasya tower cooler, uses asymmetrical triangular cuts in the cooling fins to maximise heat dissipation in a minimum amount of space.
Perched on top of the heatsink is a 120mm PWM fan that should manage to balance quiet operation and low temperatures. For those who demand a little more control, the Rasetsu also ships with a bracket that slots into a PCI slot and allows manual control of the fan speed. At full tilt, the fan will spin up to 1,900rpm, making 37dBA while moving 110.31CFM of air across the cooling fins.
As a result of the horizontal orientation, the Rasetsu is only 141mm tall, meaning it should have no problem fitting into most normal chassis.
Like Scythe's other coolers, this newest model is compatible with almost every consumer CPU socket; including Intel's LGA775, LGA1156 and LGA1366 as well as AMD's Socket 754, AM2+ and AM3.
The Rasetsu should be available soon through the normal channels for somewhere around $55 (£43 including VAT).