Noctua cooling products have long been instantly recognisable thanks to their signature brown/beige colour scheme. On one hand, that's great for brand recognition, but on the other - more and more people are looking for component colour options for their stylish and/or flamboyant above-desk PC builds. Noctua has now introduced "the long awaited all-black versions of its award-winning NH-D15, NH-U12S and NH-L9i CPU coolers". They are dubbed the chromax.black series and utilise black fans and black coated heatsinks to deliver "the same signature quiet cooling performance," with a stealthy look.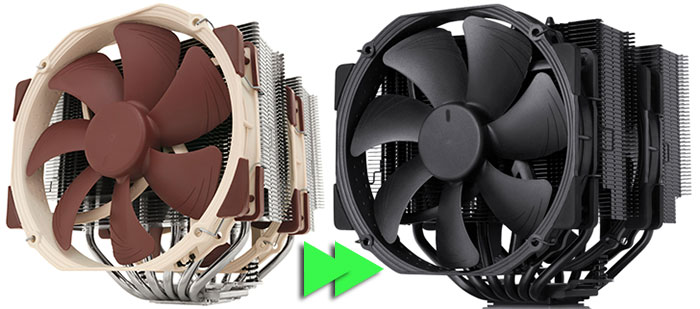 According to Noctua CEO Roland Mossig, customers have been asking for all-black coolers for a long time. However, Mossig says that the company's eyes were firmly on performance, and it was difficult to add coatings of a sufficient thermal performance and consistent visual appearance - until now. "It took a lot of time and engineering work to find an appropriate coating material and production process that gave us satisfactory thermal performance and consistent visual appearance," explained the Noctua CEO. "Now, we're proud with the end result and confident that the new chromax.black coolers will meet the high standards Noctua users have come to expect."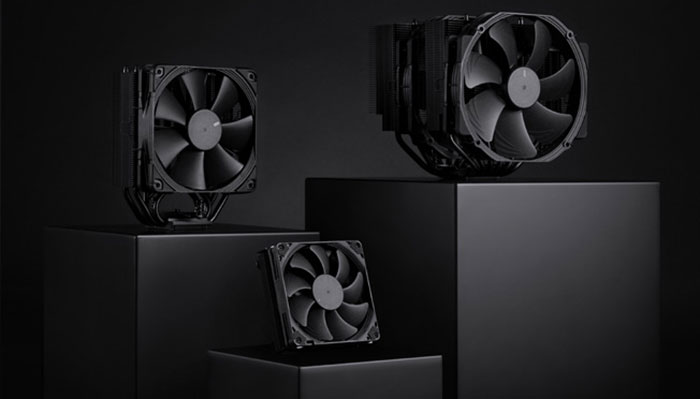 You will find that the new NH-D15 chromax.black, NH-U12S chromax.black and NH-L9i chromax.black are identical to the regular models except for the colour. They feature black coated heatsinks, black fans with black anti-vibration-pads, black fan clips or fan screws and black mounting parts - they are all black but with identical cooling performance and characteristics of the corresponding Noctua products you may already use or know about.
Black is good for blending in almost any system build but Noctua has accents that you will be able to add to these coolers for greater colour harmony. Noctua introduced the new NA-SAVP3 anti-vibration pads in black, blue, green, red, white and yellow, compatible with all NF-A15 line fans (as installed on the NH-D15 chromax.black). Meanwhile, buyers of the NH-U12S chromax.black can use the existing lineup of colour NA-AVP1 pads.
Lastly, Noctua is doing a special Linus Tech Tips limited edition (5,000 pieces) of the NH-D15 chromax.black and NH-U12S chromax.black that include extra orange vibration pads and custom fan stickers.
NH-D15 chromax.black.swap: EUR 99.90 / USD 99.90
NH-U12S chromax.black.swap: EUR 69.90 / USD 69.90
NH-L9i chromax.black.swap: EUR 49.90 / USD 49.90
NA-SAVP3 chromax.black: EUR 6.90 / USD 6.90
NA-SAVP3 chromax.blue: EUR 6.90 / USD 6.90
NA-SAVP3 chromax.green: EUR 6.90 / USD 6.90
NA-SAVP3 chromax.red: EUR 6.90 / USD 6.90
NA-SAVP3 chromax.white: EUR 6.90 / USD 6.90
NA-SAVP3 chromax.yellow: EUR 6.90 / USD 6.90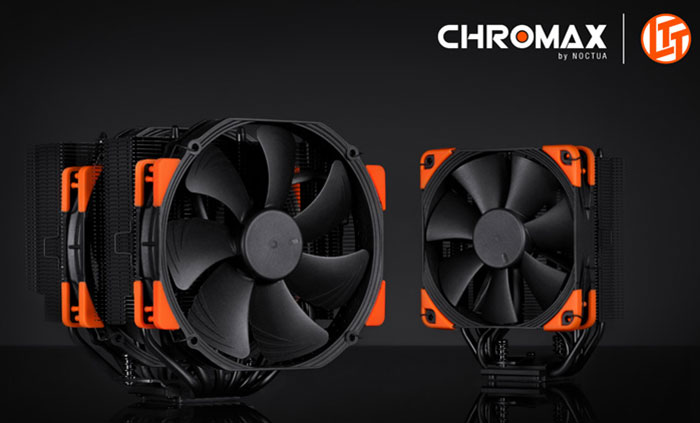 You can grab the above coolers and pads via Noctua's official Amazon and eBay stores.
The most recent HEXUS review of a Noctua CPU cooelr was of the NH-U12A, back in May this year. It won a coveted HEXUS Editor's Choice award.