Introduction
Conventional wisdom suggests that when shopping for a high-performance CPU cooler, bigger tends to mean better. That may well be true when it comes to keeping temperatures down to an absolute minimum, but there are now an increasing number of calls for smaller solutions better suited to today's more efficient PCs.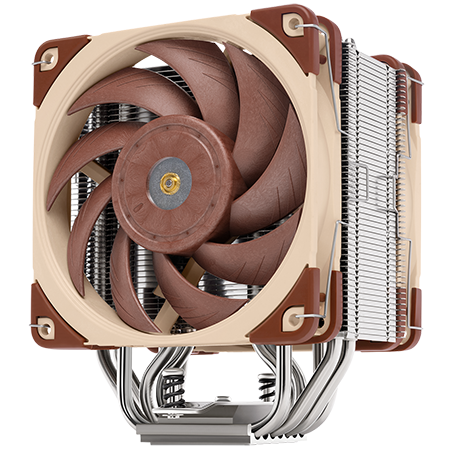 We've already seen be quiet!'s Dark Rock Slim prove that high-quality CPU cooling can be delivered in a petite form factor, and industry stalwart Noctua is bringing compact coolers back to the fore with the launch of its NH-U12A. Introduced as the fifth-generation of its award-winning U12 Series, the cooler's goal is to "rival the performance of many 140mm sized coolers while offering 120mm class case and PCIe compatibility."
Anyone asking the HEXUS team for advice on a CPU cooler may have heard us say "you can't go wrong with a Noctua," so we naturally have high expectations for the NH-U12A and our expectations are heightened by the £90 price tag. This isn't a cheap piece of kit by any stretch of the imagination - you can pick up a 240mm all-in-one liquid cooler for less - but we tend not to begrudge Noctua's pricing because you know where the extra money has gone as soon as you get the cooler in your hands. These are, in our estimation, the Rolls Royce of CPU coolers.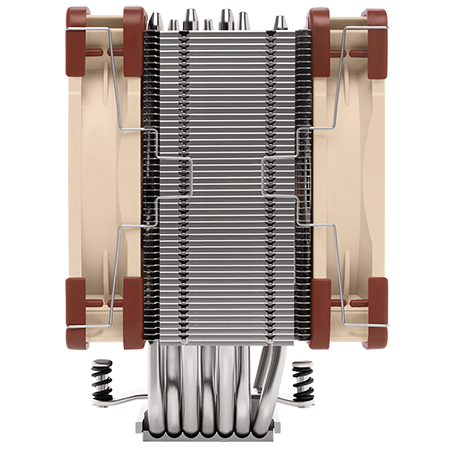 Build quality is about as good as it gets, and though Noctua coolers are typically short of eye-catching flair - you'll see no RGB lighting here - there's plenty of attention to detail in areas that actually matter. Firstly, heatsink dimensions of 158mm x 125mm x 58mm (rising to 112mm with both fans attached) are purposely formulated to suit a modern build. Total height falls just within the 160mm limit that applies to many mid-tower enclosures, and the 125mm width shouldn't interfere with the top PCIe slot on most ATX or Micro-ATX boards.
Size is a key reason for choosing the NH-U12A over a larger alternative, but don't expect a significant drop in performance, if any, as Noctua has made every possible effort to optimise the design. There are now seven U-shaped heatpipes - two more than the previous-generation U12S - and the heatsink fins are soldered to the heatpipes for superior performance. The fit and finish is impressive, and the nickel coating on all seven copper heatpipes is as tidy as we've seen.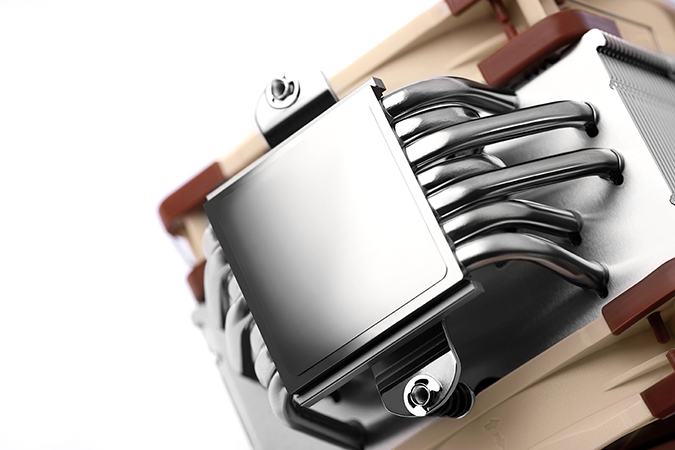 Noctua's nickel-plated copper baseplate is exquisitely smooth, and those of you keeping a beady eye on the heatpipe configuration may have noticed that the cooler has an asymmetric design. There's good reason for that as it prevents the front fan from interfering with the DIMM slots on most LGA1151 or AM4 motherboards, however the trade-off is that compatibility with quad-channel boards is less ideal; if you happen to have DIMM slots flanking both sides of the socket on LGA2066, the overhanging rear fan will limit RAM height to 42mm. Note, also, that AMD TR4 isn't supported as Noctua has a separate product line for Threadripper's oversized socket.
As you'd expect at this price point, a pair of Noctua's flagship NF-A12x25 PWM 120mm fans are included as standard to enable a push-pull configuration right out of the box. The duo is capable of speeds of up to 2,000RPM, providing airflow of up to 102m³/h while using a second-generation, self-stabilising oil-pressure bearing (SSO2) to keep noise down to a minimum. Noctua also boasts a record tip clearance of just 0.5mm between blade tip and frame, and if you're into your fans, it's worth reading the "technical backgrounds and manufacturing challenges" that Noctua has posted online to highlight the four-and-a-half years of development that went into these latest-generation fans. Suffice to say, you'll do well to find a better 120mm fan anytime soon.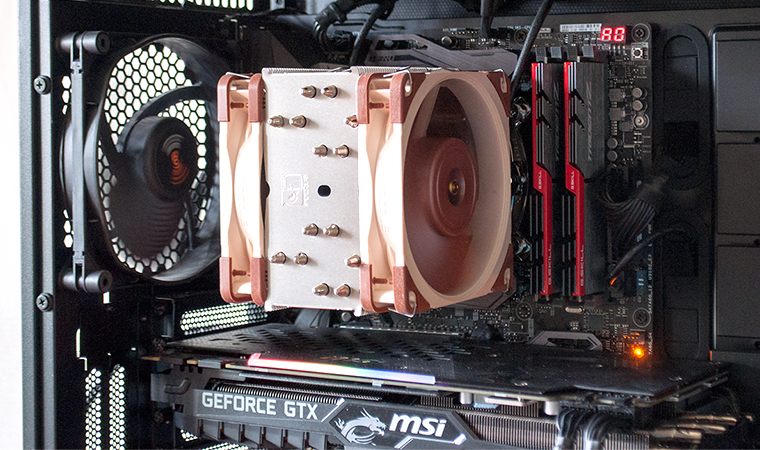 Rounding off the package is a much-loved SecuFirm2 mounting kit that's simply a joy to work with. Detailed installation videos are available for AM3, AM4, LGA1151 and LGA2066, and after you've fitted a Noctua, you can't help but think "why can't all coolers be this easy?". There's also a full-size tube of NT-H1 thermal compound included in the bundle, as well as a four-pin PWM splitter cable and two low-noise adapters that can be attached to limit fan speed to 1,700RPM. Naturally, all of these cables, as well as those attached directly to the fans, are neatly sleeved as standard, and Noctua backs the NH-U12A with an industry-leading six-year warranty.
It always feels a tad disconcerting for us critics when we end up gushing about a product, so is there anything to fault? Well, as much as we admire the cooler's construction, we aren't particularly fond of Noctua's signature colour scheme. It's an ongoing debate, and though part of us wants to applaud Noctua for sticking to its guns, the combination of brown, beige and silver just doesn't look quite right in most PCs, and the cooler's ability to stick out like a sore thumb is magnified by the widespread availability of windowed chassis. It's something to consider, and we hope a set of Chromax accessories will be made available for those wishing the NH-U12A came in black.